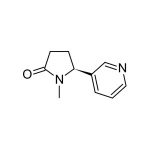 When nicotine from tobacco smoke is taken into the lungs and enters the bloodstream, the principle metabolite produced in the liver is cotinine.  Cotinine diffuses easily from blood into saliva, and salivary cotinine and blood levels are highly correlated. (1)  Cotinine in saliva has a longer half-life than nicotine (more than 10 hours), and the literature has documented it to be a specific and sensitive marker for determining exposure to tobacco and nicotine, allowing for primary and second-hand exposure determination. (2,3,4)
Technical Summary
Analyte Summary
Analyte:
Cotinine
Aliases:
Biomarker of Nicotine Exposure
Serum-Saliva Correlation:
NA
Optimum Collection Volume:
75 μL*
*Add 300 µl to the total volume of all tests for liquid handling
Assay Summary
Methodology:
ELISA
Sensitivity:
0.15 ng/mL
Assay Range:
0.8 ng/mL - 200 ng/mL
Assay Type:
Quantitative
Salivary Cotinine Example Ranges*
Group
Number
Mean (ng/mL)
Standard Deviation (ng/mL)
Range (ng/mL)
Adult Smokers
21
206.33
123.47
47.87-586.39
Non-Smokers
10
0
0
NA
*Note: Examples are to be used as a guide only. Each laboratory should estabilsh its own range.
Collect Saliva Samples
COTININE SALIVA COLLECTION CONSIDERATIONS
Better results begin with better saliva collection. This collection protocol features general considerations to maximize salivary cotinine analysis. Use this analyte-specific collection protocol to plan your collection methodology and sampling schemes.
APPROVED SALIVARY Cotinine COLLECTION METHODS
Test Saliva Samples
@ Salimetrics
Salimetrics SalivaLab - Easy & Accurate
| | |
| --- | --- |
| Order Code (lab): | 5150-S |
| Transport Requirements: | Ship on Dry Ice |
@ Your Own Lab
Salimetrics Assay Kits - Better Results
Add

DNA Analysis

to My Study
Considerations for adding Salivary DNA to analyte Studies:
You can combine salivary analytes with easy, accurate, and affordable genomic testing using Salimetrics SalivaLab and the same sample that you are already collecting – no specialized saliva collection devices or additional samples are required.
Don't know what SNPs are right for you? The SalivaLab's DNA team specializes in genetic testing services, we recommend you Request a DNA Consult (gratis) to learn more about common considerations such as # of samples, participant ethnicity, and IRB Approval.
All DNA Services
DNA Extraction and Normalization
Single Nucleotide Polymorphism (SNP) Genotyping
VNTR & STR Analysis
References & Salivary Cotinine Research
Benowitz, N.L. (1996). Cotinine as a biomarker of environmental tobacco smoke exposure.  Epidemiol Rev, 18(2), 188-204.
Dhar, P. (2004). Measuring tobacco smoke exposure: Quantifying nicotine/cotinine concentration in biological samples by colorimetry, chromatography and immunoassay methods. J Pharm Biomed Anal, 35(1), 155- 68.
Alterman, A.I., Gariti, P., Niedbala, R.S. (2002). Varying results for immunoassay screening kits for cotinine levels. Psychol Addict Behav, 16(3), 256-59.
Van Vunakis, H., Tashkin, D.P., Rigas, B., et al. (1989). Relative sensitivity and specificity of salivary and serum cotinine in identifying tobacco-smoking status of self-reported non-smokers and smokers of tobacco and/or marijuana. Arch Environ  Health, 44(1), 53-58.
Benowitz, N.L., Hukkanen, J., & Jacob, P., 3rd (2009). Nicotine chemistry, metabolism, kinetics and biomarkers.  Handb Exp Pharmacol, 192, 29-60.
Watts, R.R., Longone, J.J., Kinght, G.J., & Lewtas, J. (1990). Cotinine analytical workshop report: Consideration of analytical methods for determining cotinine in human body fluids as a measure of passive exposure to tobacco smoke.  Environ Health Perspect, 84, 173-82.
Roche, D., Callai, F., Reungoat, P., & Momas, I. (2001). Adaptation of an enzyme immunoassay to assess urinary cotinine in nonsmokers exposed to tobacco smoke.  Clin Chem, 47(5), 950-52.
Chard, T. (1990). An introduction to radioimmunoassay and related techniques (4th ed.).  Amsterdam: Elsevier.
Granger, D.A., Blair, C., Willoughby, M., Kivlighan, K.T., Hibel, L.C., Fortunato, C.K., Wiegand, L.E., & The Family Life Project Investigators (2007). Individual differences in salivary cortisol and alpha-amylase in mothers and infants: Relation to tobacco smoke exposure.  Dev Psychobiol, 49(7), 692-701.