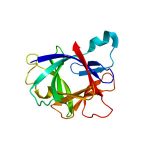 ​​​
Interleukin-1β (IL-1 beta) is one of a family of biologically active small protein molecules known as cytokines.  Cytokines are produced by a number of different cell types, including macrophages, monocytes, fibroblasts, and dendritic cells. (1,2,3)  IL-1β is an example of a pro-inflammatory cytokine, since it is involved in the body's inflammatory response to acute or chronic infections, or to conditions that are associated with a persistent low-grade inflammatory state, such as obesity. (4,5)  IL-1β is therefore frequently used as a bio-marker of inflammation. (6,7) A study with normal mouse parotid acinar cells has shown that they synthesize IL-1β and store it in secretory granules. IL-1β is released from the granules following α- and β-adrenergic stimulation. (8) Relationships between IL-1β levels in blood and saliva are not fully understood. ​
Technical Summary
Analyte Summary
Analyte:
Interleukin-1 Beta
Aliases:
IL-1B, IL-1 Beta, IL-1B, IL1β
Serum-Saliva Correlation:
NA
Optimum Collection Volume:
50 μL*
*Add 300 µl to the total volume of all tests for liquid handling
Special Considerations
IL-1 Beta may be Flow Rate Dependent
Assay Summary
Methodology:
ELISA
Sensitivity:
0.37 pg/mL
Assay Range:
3.13 pg/mL - 200 pg/mL
Assay Type:
Quantitative
| | |
| --- | --- |
| Methodology: | ECL |
| Sensitivity: | 0.05 pg/mL |
| Assay Range: | 0.05 - 2256 pg/mL |
| Assay Type: | Quantitative |
Collect Saliva Samples
IL-1 BETA SALIVA COLLECTION CONSIDERATIONS
Better results begin with better saliva collection. This collection protocol features general considerations to maximize salivary IL-1 Beta analysis. Use this analyte specific collection protocol to plan your collection methodology and sampling schemes.
APPROVED SALIVARY IL-1 BETA COLLECTION METHODS
Test Saliva Samples
@ Salimetrics
Salimetrics SalivaLab - Easy & Accurate
| | |
| --- | --- |
| Order Code (lab): | 5400.01 |
| Transport Requirements: | Ship on Dry Ice |
| Related Panels and Profiles: | Salivary Cytokine Panel |
@ Your Own Lab
Salimetrics Assay Kits - Better Results
Add

DNA Analysis

to My Study
Considerations for adding Salivary DNA to analyte Studies:
You can combine salivary analytes with easy, accurate, and affordable genomic testing using Salimetrics SalivaLab and the same sample that you are already collecting – no specialized saliva collection devices or additional samples are required.
Don't know what SNPs are right for you? The SalivaLab's DNA team specializes in genetic testing services, we recommend you Request a DNA Consult (gratis) to learn more about common considerations such as # of samples, participant ethnicity, and IRB Approval.
All DNA Services
DNA Extraction and Normalization
Single Nucleotide Polymorphism (SNP) Genotyping
VNTR & STR Analysis
References & Salivary IL-1 Beta Research
Giannobile, W.V., Beikler, T., Kinney, J.S., et al. (2009).  Saliva as a diagnostic tool for periodontal disease: Current state and future directions.  Periodontology 2000, 50, 52-64.
Pirhonen, J., Sareneva, R., Kurimoto, M., et al. (1999).  Virus infection activates IL-1β and IL-18 production in human macrophages by a caspase-1-dependent pathway.  J Immunol, 162(12), 7322-29.
Park, D.R., Thomsen, A.R., Frevert, C.W. et al. (2003).  Fas (CD95) induces proinflammatory cytokine responses by human monocytes and monocyte-derived macrophages.  J Immunol, 170(12), 6209-16.
Hernández-Rodríguez, J., Segarra, M., Vilardell, C., et al. (2004).  Tissue production of pro-inflammatory cytokines (IL-1β, TNFα, and IL-6) correlates with the intensity of the systemic inflammatory response and with corticosteroid requirements in giant-cell arteritis.  Rheumatology (Oxf.), 43(3), 294-301.
Southerland, J.H., Taylor, G.W., Moss, K., et al. (2006).  Commonality in chronic inflammatory diseases: Periodontitis, diabetes, and coronary artery disease.  Periodontology 2000, 40, 130-43.
Tzouvelekis, A., Pneumatikos, I, Bouros, D. (2005).  Serum biomarkers in acute respiratory distress syndrome an ailing prognosticator.  Respir Res, 6, 62.
Miller, C.S., King C.P., Langub, M.C., et al. (2006).  Salivary biomarkers of existing periodontal disease: A cross-sectional study.  J Am Dent Assoc, 137(3), 322-29.
Tanda, N., Ohyama, H., Yamakawa, M., et al. (1998). IL-1β and IL-6 in mouse parotid acinar cells: Characterization of synthesis, storage, and release.  Am J Physiol, 274(1 Pt1), G147-56.