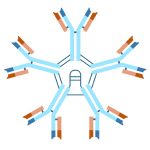 Immunoglobulin M, or IgM, is present in two major forms in the circulation referred to as natural or adaptive (1). Natural IgMs are low affinity pentameric molecules that bind to invading pathogens without requiring prior exposure (2). They act to directly neutralize viruses, activate complement, trigger phagocytosis and drive antibody dependent cell cytotoxicity (3). Adaptive IgM is the first antibody produced in response to invading pathogens and functions in a similar way to natural IgM but are high affinity molecules and are an important part of an adaptive immune response (4). The majority of IgM is pentameric and includes a molecule referred to as the J chain, which is also a key structural component found in polymeric IgA. IgM also naturally forms hexamers, however in this case the J chain is absent. In contrast to IgG, IgM antibodies peak early in the time course of humoral immune responses waning after several weeks and are thus useful in the diagnosis of recent infections or pathogen exposure. One important use for measuring antigen specific IgM in saliva is during serological surveys when assessing outbreaks of infectious diseases, for instance with the recent COVID-19 outbreak (4).
Read More...
Similar to IgG, since the major salivary source of IgM is blood plasma, the total amount of IgM varies over time depending on how much serum components are introduced into oral fluid and is subject to the influences of dilution by salivary flow. Therefore, when measuring pathogen specific IgM, total IgM can be used to qualify a saliva sample to assure sufficient levels of total IgM to provide confidence in pathogen specific IgM results. In this regard, total IgM may be essential to prove a negative pathogen specific test result. In addition, this assay may be used to qualify samples for testing after sample storage.
Show less...
Technical Summary
Analyte Summary
Analyte:
Total Immunoglobulin M
Aliases:
IgM
Serum-Saliva Correlation:
NA
Optimum Collection Volume:
50 μL*
*Add 300 µl to the total volume of all tests for liquid handling
Assay Summary
Methodology:
ELISA
Sensitivity:
0.03 ng/mL
Assay Range:
0.39 – 25 ng/mL
Assay Type:
Quantitative
Collect Saliva Samples
IgM SALIVA COLLECTION CONSIDERATIONS
Better results begin with better saliva collection. This collection protocol features general considerations to maximize salivary immunoglobulin M analysis. Use this analyte specific collection protocol to plan your collection methodology and sampling schemes.
APPROVED SALIVARY IgM COLLECTION METHODS
Test Saliva Samples
@ Salimetrics
Salimetrics SalivaLab - Easy & Accurate
| | |
| --- | --- |
| Order Code (lab): | 5176 |
| Transport Requirements: | Ship on Dry Ice |
@ Your Own Lab
Salimetrics Assay Kits - Better Results
Add

DNA Analysis

to My Study
Considerations for adding Salivary DNA to analyte Studies:
You can combine salivary analytes with easy, accurate, and affordable genomic testing using Salimetrics SalivaLab and the same sample that you are already collecting – no specialized saliva collection devices or additional samples are required.
Don't know what SNPs are right for you? The SalivaLab's DNA team specializes in genetic testing services, we recommend you Request a DNA Consult (gratis) to learn more about common considerations such as # of samples, participant ethnicity, and IRB Approval.
All DNA Services
DNA Extraction and Normalization
Single Nucleotide Polymorphism (SNP) Genotyping
VNTR & STR Analysis
References & Salivary IgM Research
Fereidan-Esfahani M, Nayfeh T, Warrington A, Howe CL, Rodriguez M. IgM Natural Autoantibodies in Physiology and the Treatment of Disease. Methods in molecular biology. 2019;1904:53-81.
Michaud E, Mastrandrea C, Rochereau N, Paul S. Human Secretory IgM: An Elusive Player in Mucosal Immunity. Trends Immunol. 2020;41(2):141-56.
Madar R, Straka S, Baska T. Detection of antibodies in saliva–an effective auxiliary method in surveillance of infectious diseases. Bratisl Lek Listy. 2002;103(1):38-41.
Brandtzaeg P. Do salivary antibodies reliably reflect both mucosal and systemic immunity? Annals of the New York Academy of Sciences. 2007;1098:288-311.