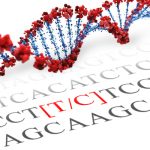 The glucocorticoid receptor, NR3C1, is part of the nuclear receptor subfamily, and acts as a receptor for glucocorticoids, most importantly cortisol. NR3C1 is in abundance throughout the body and helps regulate genes that control metabolism, cell differentiation, functions of the nervous and immune systems, and in maintaining homeostasis after stress (1).
Read More...
Due to cortisol's wide ranging effects, studies have shown NR3C1 polymorphisms are associated with metabolic syndrome, depression disorders, immune related disorders, as well as stress responsiveness along the HPA axis (2,3). Schatzberg et al demonstrated that several SNPs within the NR3C1 gene associated with elevated cortisol levels and the Bcl1 polymorphism rs41423247 SNP contributed to elevated nocturnal cortisol levels (4).  Polymorphisms within NR3C1 have also been linked to altered levels of cortisol responsiveness in persons administered laboratory-based stress tests (5).
Szczepankiewicz et al 2011, discovered an association between SNP rs6198 and an increased risk for major depressive disorder (MDD) and bipolar disorder (BD). It was shown that the heterozygous genotype for rs6198 was linked to the susceptibility of MDD. This polymorphism was also shown to influence the predominance of depressive episodes versus manic/hypomanic episodes in individuals with BD. The main findings of this study support associations between polymorphisms in NR3C1 and MDD in addition to the predominance of depressive episodes in BD patients (6). For more details on NR3C1 visit SNPedia here.
When interpreting data from your current study or planning for the future, consider the polymorphisms that influence stress response. For a complete list of SNPs available for research, we recommend contacting one of our experts for guidance on the most relevant selections for your research.
Show less...

TECHNICAL SUMMARY
Assay Methodology
Genomic DNA, purified using silica based membrane columns is analyzed by TaqMan® SNP Genotyping Assays run on the 7900HT real time PCR system
Yield: 2-5 ug genomic DNA

How to collect Glucocorticoid Receptor – NR3C1
APPROVED SALIVARY DNA COLLECTION METHODS