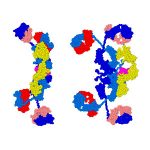 ​Secretory Immunoglobulin A (SIgA) is a subclass of Immunoglobulin A (IgA), an antibody that plays a critical role in mucosal immunity.  SIgA is the main immunoglobulin found in mucous secretions from tear glands, salivary glands, mammary glands, the respiratory system, the genito-urinary tract, and the gastrointestinal tract. (1) SIgA is not synthesized by mucosal epithelial cells in these structures or derived from blood.  Instead, it is produced by B-lymphocytes adjacent to the mucosal cells, then transported through the cell interiors, and released into the secretions from the cells. (2) SIgA plays a key role in protecting vulnerable areas such as the oral cavity, lungs, and gut from invading pathogens. (1)  Differences in SIgA levels in the saliva from different glands have been observed in humans, with the highest levels found in the minor saliva glands. (2,3)  SIgA exhibits a diurnal rhythm, decreasing from the highest levels in the morning to the lowest in the evening. (4)
Read More...
Levels of SIgA in saliva vary in response to physical and psychological stress through interactions with the autonomic nervous system. (5,6)  SIgA levels in saliva are affected by flow rates, with concentrations normally decreasing as flow rates increase.  Measurement of flow rates is advisable in order to express SIgA secretion as a function of time. (6)​
Show less...
Technical Summary
Analyte Summary
Analyte:
Secretory Immunoglobulin A
Aliases:
SIgA, Secretory IgA
Serum-Saliva Correlation:
NA
Optimum Collection Volume:
50 μL*
*Add 300 µl to the total volume of all tests for liquid handling
Special Considerations
SIgA is Location Dependent

SIgA is Flow Rate Dependent (μg/mL)

Passive Drool is the Recommended Collection Method
Assay Summary
Methodology:
ELISA
Sensitivity:
2.5 μg/mL
Assay Range:
2.50 µg/mL – 600 µg/mL
Assay Type:
Quantitative
Collect Saliva Samples
SECRETORY IgA SALIVA COLLECTION CONSIDERATIONS
Better results begin with better saliva collection. This collection protocol features general considerations to maximize salivary ​Secretory IgA analysis. Use this analyte specific collection protocol to plan your collection methodology and sampling schemes.
APPROVED SALIVARY SECRETORY IgA COLLECTION METHODS
Test Saliva Samples
@ Salimetrics
Salimetrics SalivaLab - Easy & Accurate
| | |
| --- | --- |
| Order Code (lab): | 5180 |
| Transport Requirements: | Ship on Dry Ice |
@ Your Own Lab
Salimetrics Assay Kits - Better Results
Add

DNA Analysis

to My Study
Considerations for adding Salivary DNA to analyte Studies:
You can combine salivary analytes with easy, accurate, and affordable genomic testing using Salimetrics SalivaLab and the same sample that you are already collecting – no specialized saliva collection devices or additional samples are required.
Don't know what SNPs are right for you? The SalivaLab's DNA team specializes in genetic testing services, we recommend you Request a DNA Consult (gratis) to learn more about common considerations such as # of samples, participant ethnicity, and IRB Approval.
All DNA Services
DNA Extraction and Normalization
Single Nucleotide Polymorphism (SNP) Genotyping
VNTR & STR Analysis
References & Salivary Secretory IgA Research
Holmgren, J., Czerkinsky, C. (2005).  Mucosal immunity and vaccines.  Nature Medicine, 11(4 Suppl), s45-53.
Brandtzaeg, P. (2007). Do salivary antibodies reliably reflect both mucosal and systemic immunity? Ann N Y Acad Sci, 1098, 288-311.
Crawford, J.M., Taubman, M.A., Smith D.J. (1975).  Minor salivary glands as a major source of secretory immunoglobulin A in the human oral cavity.  Science, 190(4220), 1206-9.
Li, T.-L., Gleeson, M. (2004). The effect of single and repeated bouts of prolonged cycling and circadian variation on saliva flow rate, immunoglobulin A and alpha-amylase responses.  J Sports Sci, 22(11-12), 1015-1024.
Tsujita, S., Morimoto, K. (1999).  Secretory IgA in saliva can be a useful stress marker. Env Health Prev Med, 4, 1-8.
Bishop, N.C., Gleeson, M. (2009).  Acute and chronic effects of exercise on markers of mucosal immunity. Front Biosci, 1(14), 4444-56.