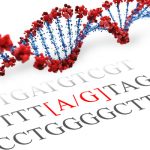 The nicotinic acetylcholine receptor gene (CHRNA3) encodes proteins with a ligand-gated ion channel that likely affects neurotransmission in humans. Polymorphisms of the CHRNA3 gene have been associated with an increased risk of smoking initiation and an increased susceptibility to lung cancer (1).
Read More...
In 2008, Thorgeirsson et al. highlighted a connection between CHRNA3 and nicotine addiction by drawing a strong association between the T allele variant of SNP rs1051730 and the quantity of cigarettes smoked per day. Their findings also support that those with the variant have higher rates of nicotine dependence (2).
Multiple studies have since confirmed the connection between SNP rs1051730 and COPD, lung cancer, and nicotine dependence (3,4,5,6). A meta-analyses performed by Cui et al. positively linked 4 SNPs from the CHRNA3/5 locus to chronic obstructive pulmonary disease (COPD) and of the evaluated SNPs (rs1051730, rs8034191, rs6495309, and rs16969968) rs1051730 showed the most significant association to COPD in non-Asians (4). Zhang et al. 2011, also revealed a susceptibility connection between rs1051730 and COPD as it relates to airway obstruction and parenchyma destruction (5).
In 2012 Yang et al. looked at patients from southern and eastern Chinese populations and concluded that SNP rs6495309 showed a significant association with both COPD and lung cancer. Individuals with this polymorphism were homozygous for the CC alleles and therefore at an increased risk for COPD, while individuals with the heterozygous alleles (CT/CC) showed a risk for lung cancer (6). For more details on CHRNA3 visit SNPedia here.
When interpreting data from your current study or planning for the future, consider that there are many polymorphisms that influence brain function and nicotine addiction. For a complete list of SNPs available for research, we recommend contacting one of our experts for guidance on the most relevant selections for your research.
Show less...

TECHNICAL SUMMARY
Gene Summary
Gene:
Cholinergic Receptor, Nicotinic Alpha 3
Gene Symbol:
CHRNA3
Related Analyte(s):
Cotinine, Cortisol
Assay Methodology
Genomic DNA, purified using silica based membrane columns is analyzed by TaqMan® SNP Genotyping Assays run on the 7900HT real time PCR system
Yield: 2-5 ug genomic DNA

How to collect Cholinergic Receptor, Nicotinic Alpha 3 Gene – CHRNA3
APPROVED SALIVARY DNA COLLECTION METHODS