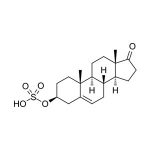 ​DHEA-S is a steroid hormone produced primarily in the adrenal cortex. It is the sulfated version of the human steroid DHEA, and, like DHEA, it is secreted in response to ACTH.  DHEA-S has been reported to have a diurnal rhythm, but the findings have varied, and some studies found no variation. (1)  DHEA-S in the blood stream has a longer half-life, slower clearance, and is more strongly bound to albumin than DHEA, which may affect synchronicity with the DHEA rhythm. (2,3,4)  DHEA-S appears to serve largely as a precursor molecule that is circulated to various target tissues in the body. In those locations, the sulfate is removed to yield DHEA, and the DHEA is then further metabolized into various estrogenic and androgenic compounds. This process allows androgens and estrogens to be delivered to the appropriate tissues without leakage of significant amounts into the circulation. (5,6)  DHEA-S is also synthesized directly in the central nervous system, where it is thought to help protect nervous tissues against harmful agents. (7,8)
Read More...
DHEA-S has been investigated for relationships to mental and physical stress and psychological and behavioral disorders. ( 9,10,11,12,13)
DHEA-S is a charged molecule, and it cannot diffuse through the neutral lipid membranes of the salivary cells like the other neutral steroids.  The exact mode of entry into saliva is not known.  Formerly, it was thought that DHEA-S enters saliva only by squeezing through the tight junctions between cells, and since it is too large to do this readily only small amounts would be present in saliva. (14)  More recent work has identified a large family of organic anion transport polypeptides (OATP) that actively transport molecules such as DHEA-S across membranes.  It is therefore seems likely that such a mode of entry occurs for DHEA-S into the saliva glands. (15,16)  Salivary levels of DHEA-S are quite low–less than 0.1 % of plasma levels in parotid saliva. (14) However, because levels of DHEA-S in blood are 250 and 500 times higher than DHEA in women and men, respectively, (2) the levels found in saliva are high enough to be measurable.  Due to the restrictive mode of entry for DHEA-S into saliva, its levels in saliva decrease as salivary flow rates increase. (14)  DHEA-S measurements in saliva must therefore be corrected for flow rate.  Because of the much higher levels of DHEA-S in blood, it is important to minimize the risk of blood contamination in the saliva samples. Salivary and plasma levels of DHEA-S show a significant positive correlation. (17)​
Show less...
Technical Summary
Analyte Summary
Analyte:
​DHEA-S
Aliases:
Dehydroepiandrosterone sulfate, DHEA sulfate
Serum-Saliva Correlation:
NA
Optimum Collection Volume:
225 μL*
*Add 300 µl to the total volume of all tests for liquid handling
Special Considerations
DHEA-S is Flow Rate Dependent (pg/mL)
Assay Summary
Methodology:
ELISA
Sensitivity:
43 pg/mL
Assay Range:
188.9 pg/mL- 15,300 pg/mL
Assay Type:
Quantitative
Collect Saliva Samples
DHEA-S SALIVA COLLECTION CONSIDERATIONS
Better results begin with better saliva collection. This collection protocol features general considerations to maximize salivary DHEA-S analysis. Use this analyte specific collection protocol to plan your collection methodology and sampling schemes.
APPROVED SALIVARY DHEA-S COLLECTION METHODS
Test Saliva Samples
@ Salimetrics
Salimetrics SalivaLab - Easy & Accurate
| | |
| --- | --- |
| Order Code (lab): | 5130 |
| Transport Requirements: | Ship on Dry Ice |
@ Your Own Lab
Salimetrics Assay Kits - Better Results
Add

DNA Analysis

to My Study
Considerations for adding Salivary DNA to analyte Studies:
You can combine salivary analytes with easy, accurate, and affordable genomic testing using Salimetrics SalivaLab and the same sample that you are already collecting – no specialized saliva collection devices or additional samples are required.
Don't know what SNPs are right for you? The SalivaLab's DNA team specializes in genetic testing services, we recommend you Request a DNA Consult (gratis) to learn more about common considerations such as # of samples, participant ethnicity, and IRB Approval.
All DNA Services
DNA Extraction and Normalization
Single Nucleotide Polymorphism (SNP) Genotyping
VNTR & STR Analysis
References & Salivary DHEA-S Research
Summarized in Whetzel, C.A., Klein, L.C. Measuring DHEA-S in saliva: Time of day differences and positive correlations between two different types of collection methods.  BMC Res Notes, 3:204.
Krobath, P.D., Salek, F.S., Pittenger, A.L. et al. (1999).  DHEA and DHEA-S: A review.  J Clin Pharmacol 39(4), 327-48.
Rosenfeld, R.S., Rosenberg, B.J., Fukushima, D.K., Hellman, L. (1975).  24-Hour secretory pattern of dehydroisoandrosterone and dehydroisoandrosterone sulfate.  J Clin Endocrinol Metab, 40(5), 850-55.
Carlström, K., Karlsson, R., Von Schoultz, B. (2002).  Diurnal rhythm and effects of oral contraceptives on serum dehydroepiandrosterone sulfate (DHEAS) are related to alterations in serum albumin rather than to changes in adrenocortical steroid secretion.  Scan J Clin Lab Invest, 62(5), 361-68.
Labrie, F., Bélanger, A., Cusan, L., Candas, B. (1997).  Physiological changes in dehydroepiandrosterone are not reflected by serum levels of active androgens and estrogens but of their metabolites: Intracrinology.  J Clin Endocrinol Metab, 82(8), 2403-9.
Labrie, F., Luu-The, V. Bélanger, A., et al. (2005).  Is dehydroepiandrosterone a hormone? J Endocrinol, 187, 169-96.
Charalampopoulos, I., Alexaki, V.-I., Tsatsanis, C., et al. (2006).  Neurosteroids as endogenous inhibitors of neuronal cell apoptosis in aging.  Ann N Y Acad Science, 1088, 138-52.
Baulieu, E.-E., Robel, P. (1998). Dehydroepiandrosterone (DHEA) and dehydroepiandrosterone sulfate (DHEAS) as neuroactive neurosteroids.  Proc Natl Acad Sci U S A, 95(8), 4089-91.)
Kellner, M., Muhtz, C., Peter, F., et al. (2010).  Increased DHEA and DHEA-S plasma levels in patients with post-traumatic stress disorder and a history of childhood abuse. J Psychiatr Res, 44(4), 215-9.
Golubchik, P., Mozes, T., Maayan, R., Weizman, A. (2009).  Neurosteroid blood levels in delinquent adolescent boys with conduct disorder. Eur Neuropsychopharmacol, 19(1), 49-52.
Azurmendi, A., Braza, F., Garcia, F. et al. (2006). Aggression, dominance and affiliation: Their relationships with androgen levels and intelligence in 5-year-old children. Horm Behav, 50(1), 132-40.
MacLaughlin, B.W., Wang, D., Noone, A.-M., et al. (2010).  Stress biomarkers in medical students participating in a mind body medicine skills program.  eCAM, doi:10.1093/ecam/neq039.
Wang, J.-S., Chen, S.-M., Lee, S.-P., et al. 2009).  Dehydroepiandrosterone sulfate linked to physiologic response against hot spring immersion. Steroids, 74(12), 945-49.
Vining, R.F., McGinley, R.A., Symons, R.G. (1983).  Hormones in saliva: Mode of entry and consequent implications for clinical interpretation.  Clin Chem, 29(10), 1752-56.
Konttinen, Y.T., Stegaev, V., Mackiewicz, Z., et al. (2010).  Salivary glands — 'an unisex organ'? Oral Dis, 16(7), 577-85.
Pomari, E., Nardi, A., Fiore, C., et al. (2009).  Transcriptional control of human organic anion transporting polypeptide 2B1 gene.  J Steroid Biochem Mol Biol, 115(3-5), 146-52.
Jezova, D., Hlavacova, N. (2008). Endocrine factors in stress and psychiatric disorders: Focus on anxiety and salivary steroids.  Ann N Y Acad Sci, 1148, 495-503.