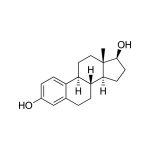 ​Estradiol is one of the three main estrogenic steroid hormones present in humans.  It is the most active naturally secreted estrogen. (1)  In menstruating women, estradiol is produced primarily by the ovarian follicles from testosterone, with additional amounts produced by extraglandular conversion of testosterone in peripheral tissues. (1,2,3,4)  Concentrations peak mid-cycle, marking ovulation, followed by a rapid decline with a smaller secondary increase during the luteal phase. (5,6)  In women of reproductive age, estradiol exhibits a diurnal rhythm where the peaks tend to occur in the early morning; the timing of the peaks is shifted later during the menstrual phase. There are also ultradian harmonics superimposed upon the basic diurnal rhythm. (7)  In post-menstrual women, small amounts of estradiol continue to be made from estrone and testosterone in the peripheral tissues, but estrone, also produced peripherally, replaces it as the predominant form of estrogen. (8,9)   In women, estradiol is responsible for the development of secondary sexual characteristics, enhancing breast development and affecting body shape, bones, joints, and fat deposition. (10)
Read More...
In men and pre-pubertal children, estradiol originates principally from extraglandular conversion of androgens; men also have small amounts produced in the testes. (11,12)  In men there is no diurnal rhythm to estradiol production. (13)
In addition to its role in sexual and reproductive functioning, estradiol also affects other parts of the body, including the cardio-vascular system, the brain, and the immune system. (14-17) Estradiol has also been studied for strong relationships with cancers of the breast, ovary, and uterine lining. (18-20)
In the blood only 1 to 15% of estradiol is in its unbound or biologically active form. The remaining estradiol is bound to serum proteins. Unbound serum estradiol enters saliva via intracellular mechanisms, and in saliva the majority of estradiol remains unbound to protein. (21) The correlation between serum and saliva samples is high. (22-24)​
Show less...
Technical Summary
Analyte Summary
Analyte:
Estradiol
Aliases:
oestradiol, 17β-estradiol, E2
Serum-Saliva Correlation:
0.80
Optimum Collection Volume:
225 μL*
*Add 300 µl to the total volume of all tests for liquid handling
Assay Summary
Methodology:
ELISA
Sensitivity:
0.1 pg/mL
Assay Range:
1 pg/mL - 32 pg/mL
Assay Type:
Quantitative
Collect Saliva Samples
ESTRADIOL SALIVA COLLECTION CONSIDERATIONS
Better results begin with better saliva collection. This collection protocol features general considerations to maximize salivary ​Estradiol analysis. Use this analyte specific collection protocol to plan your collection methodology and sampling schemes.
APPROVED SALIVARY ESTRADIOL COLLECTION METHODS
Test Saliva Samples
@ Salimetrics
Salimetrics SalivaLab - Easy & Accurate
| | |
| --- | --- |
| Order Code (lab): | 5160 |
| Transport Requirements: | Ship on Dry Ice |
@ Your Own Lab
Salimetrics Assay Kits - Better Results
Add

DNA Analysis

to My Study
Considerations for adding Salivary DNA to analyte Studies:
You can combine salivary analytes with easy, accurate, and affordable genomic testing using Salimetrics SalivaLab and the same sample that you are already collecting – no specialized saliva collection devices or additional samples are required.
Don't know what SNPs are right for you? The SalivaLab's DNA team specializes in genetic testing services, we recommend you Request a DNA Consult (gratis) to learn more about common considerations such as # of samples, participant ethnicity, and IRB Approval.
All DNA Services
DNA Extraction and Normalization
Single Nucleotide Polymorphism (SNP) Genotyping
VNTR & STR Analysis
References & Salivary Estradiol Research
Abraham, G.E. (1975). The applications of steroid radioimmunoassay to gynecologic endocrinology. In: Taymor, M.L. and Green, T.H. (eds.): Progress in gynecology, Vol. 1, 111-144. New York: Grune and Stratton.
Faiman, C., Winter, S.D., & Reyes, F.I. (1976). Patterns of gonadotropins and gonadal steroids throughout life. Clin Obstet Gynecol, 3(3), 467-483.
Kirschner, M.A., Schneider, G., Ertel, N.H., Worton, E. (1982).  Obesity, androgens, estrogens, and cancer risk.  Cancer Res, 42 (8 suppl), 3281s-3285s.
Labrie, F., Bélanger, A., Cusan, L., Candas, B. (1997).  Physiological changes in dehydroepiandrosterone are not reflected by serum levels of active androgens and estrogens but of their metabolites: Intracrinology.  J Clin Endocrinol Metab, 82(8), 2403-9.
Lipson, S.F., & Ellison, P.T. (1996). Comparison of salivary steroid profiles in naturally occurring conception and non-conception cycles. Hum Reprod, 11(10), 2090-96.
Choe, J.K., Khan-Dawood, F.S., Dawood, M.Y. (1982). Progesterone and estradiol in saliva and plasma during the menstrual cycle. Am J Obstet Gynecol, 146, 557-62.
Bao, A.-M., Liu, R.-Y., van Someren, E.J., et al. (2003).  Diurnal rhythm of free estradiol during the menstrual cycle.  Eur J Endocrinol, 148(2), 227-32.
Chang, R.J., Plouffe Jr., L. Schaffer, K.  Physiology of the menopause. In: Comprehensive management of menopause, Lorrain, J., Flouffe Jr., L., Ravnikar, V., Speroff, L., Watts, N., eds.  New York: Springer, 1993.
Reed, M.J., Lai, L.C., Owen, A.M., et al. (1990).  Effect of treatment with 4-hydroxyandrostenedione on the peripheral conversion of androstenedione to estrone and in vitro tumor aromatase activity in postmenopausal women with breast cancer.  Cancer Res, 50(1), 193-96.
Shirtcliff, E.A., Dahl, R.E., Pollak, S.D. (2009). Pubertal development: Correspondence between hormonal and physical development.  Child Dev, 80(2), 327-37.
Simpson, E.R. (2000). Role of aromatase in sex steroid action.  J Mol Endocrinol, 25(2), 149-56.
Winters, S.J., Troen, P. (1986).  Testosterone and estradiol are co-secreted episodically by the human testis.  J Clin Invest, 78(4), 870-73.
Nankin, H.R., Pinto, R., Fan, D.-F., Troen, P. (1975).  Daytime titers of testosterone, LH, estrone, estradiol, and testosterone-binding protein: Acute effects of LH and LH-releasing hormone in men.  J Clin Endocrinol Metab, 41(2), 271-81.
Ouyang, P., Michos, E.D., Kara, R.H. (2006). Hormone replacement therapy and the cardiovascular system: Lessons learned and unanswered questions.  J Am College Cardiol, 47(9), 1741-53.
McCarthy, M.M. (2008). Estradiol and the developing brain. Physiol Rev, 88(1), 91-134.
Balthazart, J., Cornil, C.A., Taziaux, M., et al. (2006). Rapid changes in production and behavioral action of estrogens. Neuroscience, 138(3), 783-91.
Karpuzoglu, E., Ahmed, S.A. (2006).  Estrogen regulation of nitric oxide and inducible nitric oxide synthase (iNOS) in immune cells: Implications for immunity, autoimmune diseases, and apoptosis.  Nitric Oxide, 15(3), 177-86.
Colditz, G. A. 1998.  Relationship between estrogen levels, use of hormone replacement therapy, and breast cancer. J Natl Cancer Inst, 90(11), 814-23.
Lépine, J., Audet-Walsh, E., Grégoire, J., et al. (2010)  Circulating estrogens in endometrial cancer cases and their relationship with tissular expression of key estrogen biosynthesis and metabolic pathways.  J Clin Endocinol Metab, 95(6), 2689-98.
Sasano, H., Harada, N. (1998). Intratumoral aromatase in human breast, endometrial, and ovarian malilgnancies.  Endocr  Rev, 19(5), 593-607.
Vining, R.F., & McGinley, R.A. (1987). The measurement of hormones in saliva: Possibilities and pitfalls. J Steroid Biochem, 27(1-3), 81-94.
Choe, J.K., Khan-Dawood, F.S., & Dawood, M.Y. (1983). Progesterone and estradiol in saliva and plasma during the menstrual cycle. Am J Obstet Gynecol, 147(5), 557-62.
Shirtcliff, E.A., Granger, D.A., Schwartz, E.B., et al. (2000). Assessing estradiol in biobehavioral studies using saliva and blood spots: Simple radioimmunoassay protocols, reliability, and comparative validity. Horm Behav, 38(2), 137-47.
Ellison, P.T., Lipson, S.F. (1999). Salivary estradiol–A viable alternative? Fertil Steril, 72(5), 951-52.)