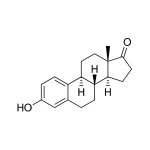 ​Estrone (3-hydroxy-1,3,5(10)-estratrien-17-one; E1) is one of the three main estrogenic steroid hormones produced in humans. Circulating estrone levels are relatively high at birth in both males and females, decrease postnatally, and increase during puberty. (1) Of the three major estrogens, estrone is predominant after menopause in women. (1)
Read More...
In premenopausal women estrone is primarily produced by conversion of androstenedione in the ovaries, with concentrations peaking in the preovulatory phase and a smaller secondary increase during the luteal phase. (1,2) In post-menopausal women, children, and men, estrone is largely produced by conversion of androstenedione in peripheral tissues. (1,2,3) Estrone is subsequently reduced to estradiol in various peripheral tissues. (3)
In non-pregnant women, only about 3% of estrone in the bloodstream is not bound to proteins. (4) Unbound estrone enters saliva from blood via intracellular mechanisms, and in saliva the majority of the estrone remains unbound to protein. The saliva and plasma values are highly correlated. (5) ​
Show less...
Technical Summary
Analyte Summary
Analyte:
​Estrone
Aliases:
3-hydroxy-1,3,5(10)-estratrien-17-one, E1
Serum-Saliva Correlation:
NA
Optimum Collection Volume:
255 μL*
*Add 300 µl to the total volume of all tests for liquid handling
Assay Summary
Methodology:
ELISA
Sensitivity:
1 pg/mL
Assay Range:
3.1 pg/mL - 300 pg/mL
Assay Type:
Quantitative
Collect Saliva Samples
ESTRONE SALIVA COLLECTION CONSIDERATIONS
Better results begin with better saliva collection. This collection protocol features general considerations to maximize salivary Estrone analysis. Use this analyte specific collection protocol to plan your collection methodology and sampling schemes.
APPROVED SALIVARY ESTRONE COLLECTION METHODS
Test Saliva Samples
@ Salimetrics
Salimetrics SalivaLab - Easy & Accurate
| | |
| --- | --- |
| Order Code (lab): | 5206 |
| Transport Requirements: | Ship on Dry Ice |
@ Your Own Lab
Salimetrics Assay Kits - Better Results
Add

DNA Analysis

to My Study
Considerations for adding Salivary DNA to analyte Studies:
You can combine salivary analytes with easy, accurate, and affordable genomic testing using Salimetrics SalivaLab and the same sample that you are already collecting – no specialized saliva collection devices or additional samples are required.
Don't know what SNPs are right for you? The SalivaLab's DNA team specializes in genetic testing services, we recommend you Request a DNA Consult (gratis) to learn more about common considerations such as # of samples, participant ethnicity, and IRB Approval.
All DNA Services
DNA Extraction and Normalization
Single Nucleotide Polymorphism (SNP) Genotyping
VNTR & STR Analysis
References & Salivary Estrone Research
Faiman, C., Winter, J.S., Reyes, F.I. (1976). Patterns of gonadotrophins and gonadal steroids throughout life. Clin Obstet Gynecol, 3(3), 467-83.
Cañez, M.S., Lee, K.J., & Olive, D.L. (1992). Progestogens and estrogens. Infert  Reprod Med Clin North Amer, 3, 59-78.
Sasano, H., Harada, N. (1998). Intratumoral aromatase in human breast, endometrial, and ovarian malignancies.  Endocr Rev, 19(5), 593-607.
Speight, A.C., Hancock, K.W., Oakey, R.E. (1979).  Non-protein-bound oestrogens in plasma and urinary excretion of unconjugated oestrogens in non-pregnant women.  J Endocrinol, 83, 385-91.
Vining, R.F., McGinley, R.A. (1987). The measurement of hormones in saliva: Possibilities and pitfalls.  J Steroid Biochem, 27(1-3), 81-94.