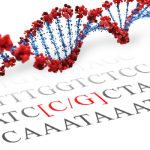 Corticosteroid receptors are released into the brain by the adrenal cortex during stressful circumstances and when released, have been shown to affect mental processes like emotion and cognition (1). The mineralocorticoid receptor (MR) is one of two known corticosteroid receptors that has equal affinity for both mineralocorticoids and glucocorticoids.
Read More...
MRs are abundantly expressed in the hippocampus as well as the prefrontal cortex, areas within the brain that are critical for memory and executive function. MRs have also been shown to specifically signal aldosterone, which in turn regulates sodium and water retention throughout the body (2). Towards this function, MRs can be found in both epithelial (e.g. kidney, colon) and non-epithelial tissues (e.g. heart, brain) (2, 3).
Interestingly, multiple MR variants or SNPs have been implicated in the growing research of cognitive abilities, mood, and depression. For instance, DeRijk et al identified MR variants that may contribute to individual differences in resiliency and vulnerability to certain stressors, which is a huge step toward targeted treatments in both homeostasis and health recovery (4). Gender dependent effects have also been observed with MR variants for depression susceptibility following childhood maltreatment (5). For more research and details on MR SNPs, visit MR on SNPedia.
When interpreting data from your current study or planning for the future, consider the polymorphisms that influence stress responses. For a complete list of SNPs available for research, we recommend contacting one of our experts for guidance on the most relevant selections for your research.
Show less...

TECHNICAL SUMMARY
Gene Summary
Gene:
Mineralocorticoid Receptor
Gene Symbol:
MR,MLR, or MCR
Also Known As:
NR3C2
Related Analyte(s):
Cortisol
Assay Methodology
Genomic DNA, purified using silica based membrane columns is analyzed by TaqMan® SNP Genotyping Assays run on the 7900HT real time PCR system
Yield: 2-5 ug genomic DNA


How to collect Mineralocorticoid Receptor – MR, NR3C2
APPROVED SALIVARY DNA COLLECTION METHODS