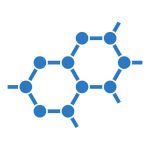 With over 7 million SNP assays available for genotyping individuals in your study, Salimetrics SalivaLab's DNA Analysis service provides easy, accurate, and affordable genomic testing, relevant to your research and budget. The Salimetrics SalivaLab offers SNP analysis for any SNP(s) on SNPedia with at least one peer-reviewed publication. Salimetrics protocols are specifically designed for saliva samples and obtain DNA from the same SalivaBio collection devices that researchers are already using and familiar with – you don't need any specialized saliva collection devices. The SalivaLab's DNA analysis team also specializes in customer support and technical advice for saliva-based analysis/oral fluid biospecimens.
Read More...
DNA Services Currently Offered:
DNA Extraction and Normalization
Single Nucleotide Polymorphism (SNP) Genotyping
Variable Number Tandem Repeat (VNTR) Analysis
Short Tandem Repeat (STR) Analysis
Show less...
Featured Genes
| Gene Symbol | Gene Name | Featured SNP's | Related Research Field | Additional Research |
| --- | --- | --- | --- | --- |
| OXTR | Oxytocin Receptor - OXTR | | stress reactivity, social perception, reproduction, empathy | SNPedia |
| COMT | Catechol-O-methyltransferase - COMT | | cognitive flexibility, impulse control, dopamine | SNPedia |
| DRD2 | Dopamine Receptor - DRD2 | | locomotion, cognition, neuroendocrine secretion, addiction | SNPedia |
| NR3C1 | Glucocorticoid Receptor - NR3C1 | | stress, depression, metabolism, cell differentiation | SNPedia |
| CHRNA3 | Cholinergic Receptor, Nicotinic Alpha 3 Gene - CHRNA3 | | nicotine addiction, COPD, lung cancer | SNPedia |
| BDNF | Brain-Derived Neurotrophic Factor - BDNF | | learning, memory, depression, bipolar disorder, schizophrenia | SNPedia |
| MR | Mineralocorticoid Receptor - MR, NR3C2 | | stress, emotion, cognition, cortisol, depression | SNPedia |
| FTO | Fat Mass and Obesity - FTO | | BMI, hip circumference, body weight | SNPedia |
| CLOCK | Circadian Locomotor Output Cycles Kaput - CLOCK | | circadian rhythm, sleep-wake cycles, ADHD, obesity | SNPedia |
| OPRM1 | Mu-Opioid Receptor - OPRM1 | | alcoholism, dependence, depression | SNPedia |