Saliva Collection for Children 6 Months - 6 Years Old
Read More...
The volume of sample recovered is typically in the range of 200-1000 µL and is backed by Salimetrics QC, which verifies consistent lot-to-lot performance. Complete with SalivaBio Children's Swab (SCS), swab storage tube, and sample collection instructions, this saliva collection system is ready to use in the field or on-site. If your analyte is not listed below, a pilot study may reveal a high correlation in your subject group, which will enable you to utilize this method effectively.
Show less...

Technical Summary
Specifications
Intended Use:
Children 6 months- 6 years old
Volume Capacity:
2 mL
Regulatory Status:
FDA Listed, CE Marked
Material Composition:
Synthetic Swab
Swab Size:
8 mm x 125 mm
Individually Wrapped:
Yes
Approved for Analytes
Cortisol, Alpha-Amylase, Cotinine, IgG/IgM, Interleukin-1 Beta, Interleukin-6, Secretory Immunoglobulin A, Testosterone, DNA Analysis, Uric Acid
Recommended

Handling & Storage

Accessories
4″ Swab/Conical Tube Storage Box
Moisture-resistant laminated fiberboard boxes are ideal for freezer and refrigerator storage. The 7 x 7 grid insert makes easy work of sample organization.
Specifications

Item#

5023.00
Size:
5.5″ x 5.5″ x 4″
Qty:
Each
Order Online
Bar-Coded Sample Labels
Small polypropylene labels which adhere to tubes frozen to -80°C and will not fall off upon thawing. Sample ID number, study name and barcode are pre-printed onto the 1-in square labels ensuring positive sample identification during saliva collections.
Specifications

Item#

5009.07
Size:
26 mm x 26 mm (1″ x 1″)
Qty:
Each
Order Online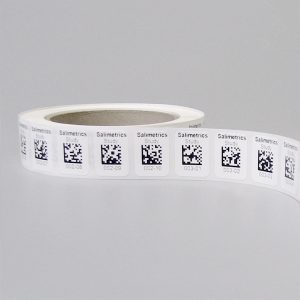 WordPress Cookie Plugin by Real Cookie Banner
Contact: Salimetrics (USA)
ENGAGE

– in the Saliva Research Collaboratory
Work one-on-one with Dr. Douglas Granger, a distinguished salivary bioscience researcher, to advance and refine your ideas, problem solve research design issues, pre-review proposal concepts, and rework plans for grant resubmissions.
CALL 800.790.2258
X
Collaboratory