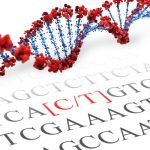 The Brain-Derived Neurotrophic Factor (BDNF) protein promotes and maintains the survival of nerve cells and helps regulate synaptic plasticity, which is important for learning and memory. Several studies have shown a correlation between low levels of BDNF and depression, bipolar disorder and schizophrenia, while neuropsychiatric medications like antidepressants and antipsychotics have been shown to increase BDNF levels (1,2,3).
Read More...
Rs6265, also called Val66Met or G196A, is one of the most commonly studied SNPs along the BDNF genomic loci, and is prevalent in over 19% of Europeans and up to 44% of Asians (4). Increasing research on this SNP is exploring associations between rs6265 and obesity (weight regulation), smoking, depression, introversion, schizophrenia, bipolar disorder, and specific neuropsychiatric diseases. A recent study by Armbruster et al showed that individuals with the met/met homozygotes have a more pronounced cortisol response after a stress test but have a smaller startle response when compared to Val/Val homozygotes or Val/Met heterozygotes (5).
SNP, rs12291063, within the BDNF gene is correlated with decreased BDNF expression and has been associated with increased obesity in both adult and pediatric populations (6). Other commonly studied polymorphisms within the BDNF gene, include C270T, rs7103411, rs2030324, rs2203877, rs2049045 and rs7124442, which are impacting research in the fields of depression, bipolar disorder, PTSD, and schizophrenia. For more information, visit BDNF on SNPedia.
When interpreting data from your current study or planning for the future, consider the polymorphisms that influence brain function. For a complete list of SNPs available for research, we recommend contacting one of our experts for guidance on the most relevant selections for your research.
Show less...

TECHNICAL SUMMARY
Gene Summary
Gene:
Brain-Derived Neurotrophic Factor
Gene Symbol:
BDNF
Related Analyte(s):
Cortisol
Assay Methodology
Genomic DNA, purified using silica based membrane columns is analyzed by TaqMan® SNP Genotyping Assays run on the 7900HT real time PCR system
Yield: 2-5 ug genomic DNA


How to collect Brain-Derived Neurotrophic Factor – BDNF
APPROVED SALIVARY DNA COLLECTION METHODS