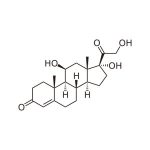 Cortisol (hydrocortisone, Compound F) is the major glucocorticosteroid hormone produced in the adrenal cortex. Cortisol is actively involved in the regulation of calcium absorption, blood pressure maintenance, anti-inflammatory function, gluconeogenesis, gastric acid, pepsin secretion, and immune function. (1,2,3) Cortisol production has a circadian rhythm. (4) Levels peak in the early morning and drop to the lowest concentration at night. (5) Levels rise independently of circadian rhythm in response to stress. (6) Increased cortisol production is associated with Cushing's syndrome and adrenal tumors, while decreased cortisol production is associated with adrenal insufficiency (e.g., Addison's disease) and adrenocorticotropic hormone (ACTH) deficiency. (7)
Read More...
In the blood only 1 to 15% of cortisol is in its unbound or biologically active form. The remaining cortisol is bound to serum proteins. (8) Unbound serum cortisol enters the saliva via intracellular mechanisms, and in saliva the majority of cortisol remains unbound to protein. (9)
Salivary cortisol levels are unaffected by salivary flow rate or salivary enzymes. (10) Studies consistently report high correlations between serum and saliva cortisol, indicating that salivary cortisol levels reliably estimate serum cortisol levels. (11,12,13)
Show less...
Technical Summary
Analyte Summary
Analyte:
Cortisol
Aliases:
hydrocortisone, Compound F
Serum-Saliva Correlation:
0.91
Optimum Collection Volume:
75 μL*
*Add 300 µl to the total volume of all tests for liquid handling
Interfering Factors
Bovine hormones normally present in dairy products can cross-react with anti-cortisol antibodies and cause false results.
Hormone based oral contraceptives and estrogens can cause temporary increase in CBG, potentially lowering cortisol levels
in saliva.
Multiple medications mimic the structure of cortisol and have the potential to influence cortisol levels in saliva.
Assay Summary
Methodology:
ELISA
Sensitivity:
<0.007 ug/dL
Assay Range:
0.012-3.000 ug/dL
Assay Type:
Quantitative
*Salivary Cortisol Example Ranges
Group
Number
Overall Range (ug/dL)
Children, neonatal
275
ND - 3.417
Children, age 6 months
165
ND - 2.734
| | | |
| --- | --- | --- |
| Group | Number | Overall Range (ug/dL) |
| Normal subjects | 19 | 0.007 - 0.115 |
| Cushing's subjects | 21 | 0.130-2.972 |
*Note: Examples are to be used as a guide only. Each laboratory should estabilsh its own range.
Collect Saliva Samples
SALIVARY CORTISOL SALIVA COLLECTION CONSIDERATIONS
Better results begin with better analyte collection. This collection protocol features general considerations to maximize salivary cortisol analysis. Use this Analyte-Specific Collection Protocol to plan your collection methodology and sampling schemes.
APPROVED SALIVARY CORTISOL COLLECTION METHODS
Test Saliva Samples
@ Salimetrics
Salimetrics SalivaLab - Easy & Accurate
| | |
| --- | --- |
| Order Code (lab): | 5100 |
| Transport Requirements: | Ship on Dry Ice |
@ Your Own Lab
Salimetrics Assay Kits - Better Results
Add

DNA Analysis

to My Study
Considerations for adding Salivary DNA to analyte Studies:
You can combine salivary analytes with easy, accurate, and affordable genomic testing using Salimetrics SalivaLab and the same sample that you are already collecting – no specialized saliva collection devices or additional samples are required.
Don't know what SNPs are right for you? The SalivaLab's DNA team specializes in genetic testing services, we recommend you Request a DNA Consult (gratis) to learn more about common considerations such as # of samples, participant ethnicity, and IRB Approval.
All DNA Services
DNA Extraction and Normalization
Single Nucleotide Polymorphism (SNP) Genotyping
VNTR & STR Analysis
References & Salivary Cortisol Research
Migeon, C.J., & Lanes, R.L. (1990). Adrenal cortex: hypo- and hyperfunction. In F. Lifshitz (ed.), Pediatric endocrinology, a clinical guide (2nd ed.), (pp. 333-52). New York: Marcel Dekker.
Drucker, S., New, M.I. (1987).  Disorders of adrenal steroidogenesis. Pediatr Clin North Am, 34(4), 1055-66.
Fischbach, F.T. (1992). The manual of laboratory and diagnostic tests, (4th ed.). Philadelphia: J. B. Lippincott.
Dorn, L.D., Lucke, J.F., Loucks, T.L., Berga, S.L. (2007). Salivary cortisol reflects serum cortisol: analysis of circadian profiles. Ann Clin Biochem, 44(pt 3), 281-84.
Chernow, B., Alexander, H.R., Smallridge, R.C., et al. (1987). Hormonal responses to graded surgical stress. Arch Intern Med, 147(7), 1273-78.
Kreiger, D.T. (1975). Rhythms of ACTH and corticosteroid secretion in health and disease and their experimental modification. J Steroid Biochem, 6(5), 758-91.
Rothfield, B. (1974). Plasma cortisol. In: B. Rothfield (ed.), Nuclear medicine–in vitro (pp. 120-5). Philadelphia: Lippincott.
Robin, P., Predine, J., Milgrom, E. (1977). Assay of unbound cortisol in plasma. J Clin Endocrinol Metab, 46(2), 277-83.
Vining, R.F., McGinley, R.A., Symons, R.G. (1983). Hormones in saliva: mode of entry and consequent implications for clinical interpretation. Clin Chem, 29(10), 1752-56.
Vining, R.F., McGinley, R.A. (1987). The measurement of hormones in saliva: Possibilities and pitfalls. J Steroid Biochem, 27(1-3), 81-94.

Francis, S.J., Walker, R.F., Riad-Fahmy, D., et al. (1987). Assessment of adrenocortical activity in term newborn infants using salivary cortisol determinations. J of Pediatrics, 111, 129-33.
Hiramatsu, R. (1981). Direct assay of cortisol in human saliva by solid phase radioimmunoassay and its clinical applications. Clinica Chimica Acta, 117, 239-249.
Vining, R.F., McGinley, R.A., Maksvytis, J.J., Ho, K.Y. (1983). Salivary cortisol: A better measure of adrenal cortical function than serum cortisol. Ann Clin Biochem, 20(pt 6), 329-35.