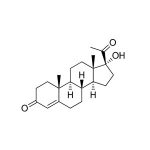 17α-hydroxyprogesterone (17-OH progesterone or 17OHP) is a steroid hormone produced in the adrenal gland and gonads. (1,2,3) It is synthesized from progesterone, and it serves primarily as a precursor compound that is converted into cortisol in the adrenal gland, or into androgenic and estrogenic steroid hormones in the gonads. (3,4) 17-OHP is routinely used for the diagnostic assessment of 21-hydroxylase deficiency, which is linked to congenital adrenal hyperplasia, impaired aldosterone synthesis, and fatal salt-wasting. (5-9) 17-OHP exhibits a diurnal rhythm with higher values in the morning, decreasing over the day to a nadir in the evening. (10,11) 17-OHP enters saliva from blood via intracellular mechanisms, and there is excellent correlation between saliva and serum values. (12)​
Technical Summary
Analyte Summary
Analyte:
17α-Hydroxyprogesterone
Aliases:
17-OH progesterone, 17OHP
Serum-Saliva Correlation:
0.64
Optimum Collection Volume:
125 μL*
*Add 300 µl to the total volume of all tests for liquid handling
Assay Summary
Methodology:
ELISA
Sensitivity:
3 pg/mL
Assay Range:
5.1 pg/mL - 500pg/mL
Assay Type:
Quantitative
Collect Saliva Samples
SALIVARY 17OHP SALIVA COLLECTION CONSIDERATIONS
Better results begin with better analyte collection. This collection protocol features general considerations to maximize salivary 17OHP analysis. Use this analyte-specific collection protocol to plan your collection methodology and sampling schemes.
APPROVED SALIVARY 17OHP COLLECTION METHODS
Test Saliva Samples
@ Salimetrics
Salimetrics SalivaLab - Easy & Accurate
| | |
| --- | --- |
| Order Code (lab): | 5147 |
| Transport Requirements: | Ship on Dry Ice |
@ Your Own Lab
Salimetrics Assay Kits - Better Results
Add

DNA Analysis

to My Study
Considerations for adding Salivary DNA to analyte Studies:
You can combine salivary analytes with easy, accurate, and affordable genomic testing using Salimetrics SalivaLab and the same sample that you are already collecting – no specialized saliva collection devices or additional samples are required.
Don't know what SNPs are right for you? The SalivaLab's DNA team specializes in genetic testing services, we recommend you Request a DNA Consult (gratis) to learn more about common considerations such as # of samples, participant ethnicity, and IRB Approval.
All DNA Services
DNA Extraction and Normalization
Single Nucleotide Polymorphism (SNP) Genotyping
VNTR & STR Analysis
References & Salivary 17OHP Research
Pasquali, R., Patton, L., Pocognoli, P., et al. (2007).  17-Hydroxyprogesterone responses to gonadotropin-releasing hormone disclose distinct phenotypes of functional ovarian hyperandrogenism and polycystic ovary syndrome.  J Clin Endocrin Metab, 92(11), 4208-17.
Şahin, Y., Keleştimur, F. (1997). 17-Hydroxyprogesterone responses to gonadotrophin-releasing hormone agonist buserelin and adrenocorticotrophin in polycystic ovary syndrome: Investigation of adrenal and ovarian cytochrome P450c17α dysregulation.  Hum Reprod, 12(5), 910-13.
Strott, C.A., Yoshimi, T., Lipsett, M.B. (1969).  Plasma progesterone and 17-hydroxyprogesterone in normal men and children with congenital adrenal hyperplasia.  J Clin Invest, 48(5), 930-39.
Weliky, I., Engel, L.L. (1962).  Metabolism of progesterone-4-C14 and pregnenolone-7α-H3 by human adrenal tissue.  J Biol Chem, 238(4), 1302-7.
Santos, C.M., Abad, L.R., Cua, S.C. & Domingo, C.F. (2003). Monitoring congenital adrenal hyperplasia using blood spot 17-hydroxyprogesterone assay. Southeast Asian J Trop Med Public Health, 34(Suppl 3), 174-8.
Sack, J., Front, H., Kaiserman, I., Schreiber, M. (1997). 21-hydroxylase deficiency: Screening and incidence in Israel. Horm Res, 48(3), 115-9.
New, M.I., Levine, L.S. (1984). Congenital adrenal hyperplasia. Monographs on Endocrinology, 26, 1-88.
Van der Kamp, H.J, Wit, J.M. (2004). Neonatal screening for congenital adrenal hyperplasia. Eur J Endocrinol, 151(Suppl. 3), U71-5.
Hughes, I.A., Winter, J.S. (1976).  The application of a serum 17-OH progesterone radioimmunoassay to the diagnosis and management of congenital adrenal hyperplasia. J Pediatrics, 88(5), 766-73.
Gröschl, M., Rauh, M., Dörr, H.-G. (2003).  Circadian rhythm of salivary cortisol, 17α-hydroxyprogesterone, and progesterone in healthy children.  Clin Chem, 49(10), 1688-91.
Goudas, V.T., Dumesic, D.A. (1997). Polycystic ovary syndrome. Endocrinol Metab Clin North Am, 26(4), 893-912.
Vining, R.F., McGinley, R.A. (1987). The measurement of hormones in saliva: Possibilities and pitfalls. J Ster Biochem, 27(1-3), 81-94.