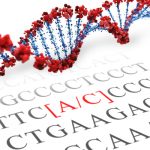 Within the central nervous system, dopamine functions as a neurotransmitter, and is involved in the control of locomotion, cognition, affect and neuroendocrine secretion (1). The dopamine receptor DRD2, functions to regulate synthesis, storage and release of dopamine (2). Mutations in the DRD2 gene can inhibit dopamine production and activity, leading to psychiatric and psychotic effects as well as an increased risk for addiction and neuropsychiatric diseases (3). All current antipsychotic prescription drugs target the DRD2 receptor, making it a popular gene of study among pharmaceuticals.
Read More...
In many studies, SNPs along the DRD2 gene have been shown to influence substance dependence, including alcoholism and opioid addiction (rs1076560), nicotine dependence (rs4648317), and certain neuropsychiatric disorders (rs1800497, rs6277). An increased risk of being diagnosed with schizophrenia, has also been linked to the DRD2 polymorphism rs1801028. Glatt et al, 2006 conducted a meta-analysis and reported that SNP, rs1801028, increased the risk for schizophrenia, and exerted this influence in a dominant manner (4).
Clarke et al, 2014, recently found that the rs1076560 SNP in DRD2 positively associated with opioid abuse in both European American and African American populations (5). The central role DRD2 plays in dopamine signaling would implicate that polymorphisms in this gene could affect several of dopamine's downstream pathways. For more research, visit DRD2 on SNPedia
When interpreting data from your current study or planning for the future, consider the polymorphisms that influence dopamine levels and brain function. For a complete list of SNPs available for research, we recommend contacting one of our experts for guidance on the most relevant selections for your research.
Show less...

TECHNICAL SUMMARY
Assay Methodology
Genomic DNA, purified using silica based membrane columns is analyzed by TaqMan® SNP Genotyping Assays run on the 7900HT real time PCR system
Yield: 2-5 ug genomic DNA


How to collect Dopamine Receptor – DRD2
APPROVED SALIVARY DNA COLLECTION METHODS