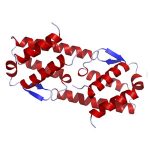 Human Interleukin 5 (IL-5), mainly drives the maturation and maintenance of eosinophils and antibody secreting B cells and is a glycosylated 15.2 kDa disulfide linked homodimer mainly produced by eosiniophils (1) and T helper type 2 (Th2) cells (2). Dysregulation of IL-5 is associated with eosinophilia, atopic dermatitis and pulmonary fibrosis. IL-5 is also expressed in the mast cells of asthmatic airways (1) and is a promising drug target for the treatment of asthma and COPD (3). In fact, three therapeutic monoclonal antibodies (mepolizumab, benralizumab and reslizumab) have received FDA approval targeting IL-5 to treat severe eosinophilic asthma (4, 5). Measuring IL-5 in oral fluid is of interest for asthma and COPD researchers since fluids from the lung exchange with saliva and levels are elevated in asthmatic patients (5). Salivary biomarkers for asthma are appealing to researchers as they enable on demand sample collection, for example before and after asthmatic attacks, which enable testing of samples that have been collected at times that are difficult to achieve during a visit to a physician's office or clinic.
Technical Summary
Analyte Summary
Analyte:
Interleukin-5
Aliases:
IL-5, EDF
Serum-Saliva Correlation:
NA
Optimum Collection Volume:
100 μL
Assay Summary
Methodology:
ECL
Sensitivity:
0.22 pg/mL
Assay Range:
0.22 – 562 pg/mL
Assay Type:
Quantitative
Collecting Saliva for Cytokines
CYTOKINE SALIVA COLLECTION CONSIDERATIONS
Better results begin with better saliva collection. This collection protocol features general considerations to maximize salivary cytokine analysis. Use this analyte specific collection protocol to plan your collection methodology and sampling schemes.
APPROVED SALIVARY CYTOKINE COLLECTION METHODS
Test Saliva Samples
@ Salimetrics
Salimetrics SalivaLab - Easy & Accurate
| | |
| --- | --- |
| Order Code (lab): | 5209.07 |
| Transport Requirements: | Ship on Dry Ice |
| Related Panels and Profiles: | Salivary Cytokine Panel |
@ Your Own Lab
Salimetrics Assay Kits - Better Results
The validated method used by Salimetrics is proprietary and not available in assay kit form at this time.
Add

DNA Analysis

to My Study
Considerations for adding Salivary DNA to analyte Studies:
You can combine salivary analytes with easy, accurate, and affordable genomic testing using Salimetrics SalivaLab and the same sample that you are already collecting – no specialized saliva collection devices or additional samples are required.
Don't know what SNPs are right for you? The SalivaLab's DNA team specializes in genetic testing services, we recommend you Request a DNA Consult (gratis) to learn more about common considerations such as # of samples, participant ethnicity, and IRB Approval.
All DNA Services
DNA Extraction and Normalization
Single Nucleotide Polymorphism (SNP) Genotyping
VNTR & STR Analysis
References & Salivary IL-5 Research
Dubucquoi S, Desreumaux P, Janin A, Klein O, Goldman M, Tavernier J, et al. (1994). Interleukin 5 synthesis by eosinophils: association with granules and immunoglobulin-dependent secretion. J Exp Med. 179(2):703-8.
Yanagibashi T, Satoh M, Nagai Y, Koike M, Takatsu K. (2017). Allergic diseases: From bench to clinic – Contribution of the discovery of interleukin-5. Cytokine. 98:59-70.
Narendra DK, Hanania NA. (2019). Targeting IL-5 in COPD. Int J Chron Obstruct Pulmon Dis. 14:1045-51.
Busse W, Chupp G, Nagase H, Albers FC, Doyle S, Shen Q, et al. (2019). Anti-IL-5 treatments in patients with severe asthma by blood eosinophil thresholds: Indirect treatment comparison. J Allergy Clin Immunol. 143(1):190-200 e20.
Ballou SP, Lozanski G. (1992). Induction of inflammatory cytokine release from cultured human monocytes by C-reactive protein. Cytokine. 4(5):361-8.