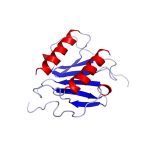 Interleukin-8 (IL-8), also known as neutrophil chemotactic factor, belongs to the CXC chemokine family and mainly serves as an immune mediator of neutrophil-dependent acute inflammation (2). IL-8 is produced in various cells and tissues such as phagocytes and mesenchymal cells exposed to inflammatory stimulus, and primarily targets the recruitment and activation of neutrophil granulocytes and other intra-and extracellular changes in response to infection, inflammation, trauma, environmental stress, and steroid hormones, etc. IL-8 has also been suggested to influence T-cell migration. Although neutrophils are the primary target, a variety of other cells also respond to the presence of IL-8.
Read More...
In serum, IL-8 has shown strong associations with studies in periodontal disease, obesity (3), cancer, oxidative stress (4), rheumatoid arthritis, tumor development and Hepatitis C.
Show less...
Technical Summary
Analyte Summary
Analyte:
Interleukin-8
Aliases:
IL-8
Serum-Saliva Correlation:
NA
Optimum Collection Volume:
100 μL
Assay Summary
Methodology:
ECL
Sensitivity:
0.07 pg/mL
Assay Range:
0.07 – 2336 pg/mL
Assay Type:
Quantitative
Collecting Saliva for Cytokines
CYTOKINE PANEL SALIVA COLLECTION CONSIDERATIONS
Better results begin with better saliva collection. This collection protocol features general considerations to maximize salivary cytokine analysis. Use this analyte specific collection protocol to plan your collection methodology and sampling schemes.
APPROVED SALIVARY CYTOKINE COLLECTION METHODS
Test Saliva Samples
@ Salimetrics
Salimetrics SalivaLab - Easy & Accurate
| | |
| --- | --- |
| Order Code (lab): | 5209 |
| Transport Requirements: | Ship on Dry Ice |
| Related Panels and Profiles: | Salivary Cytokine Panel |
@ Your Own Lab
Salimetrics Assay Kits - Better Results
The validated method used by Salimetrics is proprietary and not available in assay kit form at this time.
Add

DNA Analysis

to My Study
Considerations for adding Salivary DNA to analyte Studies:
You can combine salivary analytes with easy, accurate, and affordable genomic testing using Salimetrics SalivaLab and the same sample that you are already collecting – no specialized saliva collection devices or additional samples are required.
Don't know what SNPs are right for you? The SalivaLab's DNA team specializes in genetic testing services, we recommend you Request a DNA Consult (gratis) to learn more about common considerations such as # of samples, participant ethnicity, and IRB Approval.
All DNA Services
DNA Extraction and Normalization
Single Nucleotide Polymorphism (SNP) Genotyping
VNTR & STR Analysis
References & Salivary Interleukin-8 Research
Bickel M. (1993). The role of interleukin-8 in inflammation and mechanisms of regulation. J Periodontol. 64(5 Suppl):456-60.
Baggiolini M, Clark-Lewis I. (1992). Interleukin-8, a chemotactic and inflammatory cytokine. FEBS Lett. 307(1):97-101.
Sharabiani MT, et al. (2011). Immunologic profile of excessive body weight. Biomarkers. 16(3):243-51.
Vlahopoulos S, et al. (1999). Nuclear factor-kappaB-dependent induction of interleukin-8 gene expression by tumor necrosis factor alpha: evidence for an antioxidant sensitive activating pathway distinct from nuclear translocation. Blood. 94(6):1878-89.