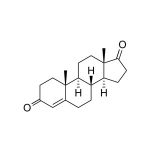 ​Androstenedione (4-androstenedione; 4-dione; 4-androstene-3,17-dione) is a steroid hormone produced in the adrenal glands and the gonads. (1,2,3) It is synthesized from DHEA or 17OH-progesterone, and it serves principally as the immediate precursor compound that is converted into testosterone or estrone, both of which may then be further converted into estradiol. (4)  The same sequence of conversion of DHEA and androstenedione into other steroids also takes place in many peripheral tissues throughout the body, allowing androgens and estrogens to be delivered to the appropriate tissues without leakage of significant amounts into the circulation. (5,6) Levels of androstenedione begin to increase in children at about age 6-8, and it serves as the main source of androgens prior to gonadarche.  (7)  High levels of androstenedione may confer androgenic risk, especially in females, and estrogenic risks, especially in males. Children and adolescents are particularly vulnerable to the effects of androstenedione conversion to active sex steroids.
Read More...
These effects may disrupt normal sexual development, specifically virilization in girls associated with severe acne, excessive body hair, disruption of the menstrual cycle, and infertility. The conversion of androstenedione to estrogens can cause feminization of boys. (8,9)  Elevated levels have been associated with disruptive behavior disorders in children. (7)  Measurement of serum androstenedione is used as a marker of androgen biosynthesis.  High circulating androstenedione levels are indicated in virilizing congenital adrenal hyperplasia, polycystic ovarian syndrome, and other causes of hirsutism in women.  Elevated androstenedione levels may also occur as a result of adrenal or ovarian tumors. (10,11)  Androstenedione exhibits a diurnal rhythm similar to that of cortisol, with highest levels in the morning and a nadir in the late evening. (12,13)
In blood, androstenedione is not strongly bound to sex hormone binding globulin (SHBG) or albumin.  Approximately 95% of circulating androstenedione is available to tissues. (14)  Unbound androstenedione enters saliva from blood via intracellular mechanisms, and the correlation between serum and saliva values is highly significant. (15)​
Show less...
Technical Summary
Analyte Summary:
Analyte:
​Androstenedione
Aliases:
4-androstenedione, 4-dione; 4-androstene-3,17-dione
Serum-Saliva Correlation:
0.77
Optimum Collection Volume:
125 μL*
*Add 300 µl to the total volume of all tests for liquid handling
Assay Summary:
Methodology:
ELISA
Sensitivity:
5 pg/mL
Assay Range:
10 pg/mL - 2430 pg/mL
Assay Type:
Quantitative
Collect Saliva Samples
ANDROSTENEDIONE SALIVA COLLECTION CONSIDERATIONS
Better results begin with better saliva collection. This collection protocol features general considerations to maximize salivary Androstenedione analysis. Use this analyte-specific collection protocol to plan your collection methodology and sampling schemes.
APPROVED SALIVARY ANDROSTENEDIONE COLLECTION METHODS
Test Saliva Samples
@ Salimetrics
Salimetrics SalivaLab - Easy & Accurate
| | |
| --- | --- |
| Order Code (lab): | 5149 |
| Transport Requirements: | Ship on Dry Ice |
@ Your Own Lab
Salimetrics Assay Kits - Better Results
Add

DNA Analysis

to My Study
Considerations for adding Salivary DNA to analyte Studies:
You can combine salivary analytes with easy, accurate, and affordable genomic testing using Salimetrics SalivaLab and the same sample that you are already collecting – no specialized saliva collection devices or additional samples are required.
Don't know what SNPs are right for you? The SalivaLab's DNA team specializes in genetic testing services, we recommend you Request a DNA Consult (gratis) to learn more about common considerations such as # of samples, participant ethnicity, and IRB Approval.
All DNA Services
DNA Extraction and Normalization
Single Nucleotide Polymorphism (SNP) Genotyping
VNTR & STR Analysis
References & Salivary Androstenedione Research
Yates, J., Deshpande, N. (1974).  Kinetic studies on the enzymes catalyzing the conversion of 17α-hydroxy-progesterone and dehydroepiandrosterone to androstenedione in the human adrenal gland in vitro. J Endocrinol, 6(1), 27-35.
Carson, R.S., Findlay, J.K., Clarke, I.J., Burger, H.G. (1981).  Estradiol, testosterone, and androstenedione in ovine follicular fluid during growth and atresia of ovarian follicles.  Biol Reprod, 24(1), 105-113.
Weinstein, R.L., Kelch, R.P., Jenner, M.R., et al. (1974). Secretion of unconjugated androgens and estrogens by the normal and abnormal human testis before and after human chorionic gonadotropin.  J Clin Invest, 53(1), 1-6.
Dorfman, R. I., Shipley, R. A. (1956). Androgens. New York: John Wiley and Sons.
Labrie, F., Bélanger, A., Cusan, L., Candas, B. (1997).  Physiological changes in dehydroepiandrosterone are not reflected by serum levels of active androgens and estrogens but of their metabolites: Intracrinology.  J Clin Endocrinol Metab, 82(8), 2403-9.
Labrie, F., Luu-The, V. Bélanger, A., et al. (2005).  Is dehydroepiandrosterone a hormone? J Endocrinol, 187(2), 169-96.
Dorn, L.D., Kolko, D.J., Susman, E.J., et al. (2009).  Salivary gonadal and adrenal hormone differences in boys and girls with and without disruptive behavior disorders: Contextual variants.  Biol Psychol, 81(1), 31-39.
King, D.S., Sharp, R.L., Vukovich, M.D., et al. (1999).  Effect of oral androstenedione on serum testosterone and adaptations to resistance training in young men: A randomized controlled trial. JAMA, 281(21), 2020-8.
Leder, B.Z., Longcope, C., Catlin, D.H., et al. (2000).  Oral androstenedione administration and serum testosterone concentrations in young men.  JAMA, 283(6), 779-82.
Leder, B.Z., Leblanc, K.M., Longcope, C., et al. (2002).  Effects of oral androstenedione administration on serum testosterone and estradiol levels in postmenopausal women.  J Clin Endocrinol Metab, 87(12), 5449-54.
Kicman, A.T., Bassindale, T., Cowan, D.A., et al. (2003).  Effect of androstenedione ingestion on plasma testosterone in young women; A dietary supplement with potential health risks. Clin Chem, 49(1), 167-9.
Goldman, J., Wajchenberg, B.L., Liberman, B. et al. (1985).  Contrast analysis for the evaluation of the circadian rhythms of plasma cortisol, androstenedione, and testosterone in normal men and the possible influence of meals.  J Clin Endocrinol Metab, 60(1), 164-67.
Ostrowska, Z. Zwirska-Korczala, K., Pardela, M., et al. (1998).  Circadian variations of androstenedione, dehydroepiandrosterone sulfate and free testosterone in obese women with menstrual disturbances. Endocr Regul, 32(4), 169-76.
Longcope,  C., Baler,  S. (1993).  Androgen and estrogen dynamics: Relationships with age, weight, and menopause status. J Clin Endocrinol Metab, 76(3), 601–4.
Vining, R.F., McGinley, R.A. (1987). The measurement of hormones in saliva: Possibilities and pitfalls.  J Steroid Biochem, 27(1-3), 81-94.