Saliva Collection for Adults & Children 6+ Years Old

Technical Summary
Specifications
Intended Use:
Adults, Children 6+
Volume Capacity:
2 mL
Regulatory Status:
FDA Listed, CE Marked
Material Composition:
Polypropylene
Cryovial Size:
13 mm x 46 mm
Approved for Analytes
ALL - Passive drool provides the most robust sample for all analytes
Recommended

Handling & Storage

Accessories
2″ Swab/Conical Tube Storage Box
The SalivaBio LLC cryostorage box is designed to promote better sample organization and storage. The new SalivaBio box features key advantages over a traditional 2″ cryostorage box: a water-resistant laminated cover extends the lifetime of the box by reducing wear that can occur over several freeze-thaw cycles; a rigid 81-cell plastic grid will not bend or crush easing sample placement and removal; and integrated grid-lines simplify sample identification on the box that makes it easy to find and replace samples. The new box also features an attached, hinged lid, to minimize bench-space and keep samples organized.
Specifications

Item#

5023.05
Size:
134 mm x 134 mm x 51 mm (5.25×5.25×2")
Qty:
Each
Order Online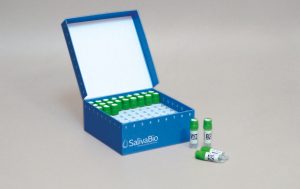 Bar-Coded Sample Labels
​Small polypropylene labels which adhere to tubes frozen to -80°C and will not fall off upon thawing. Sample ID number, study name and barcode are pre-printed onto the 1-in square labels ensuring positive sample identification during saliva collections.
Specifications

Item#

5009.07
Size:
26 mm x 26 mm (1″ x 1″)
Qty:
Each
Order Online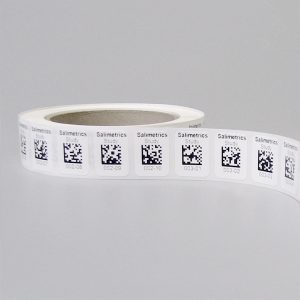 WordPress Cookie Plugin by Real Cookie Banner
Contact: Salimetrics (USA)
ENGAGE

– in the Saliva Research Collaboratory
Work one-on-one with Dr. Douglas Granger, a distinguished salivary bioscience researcher, to advance and refine your ideas, problem solve research design issues, pre-review proposal concepts, and rework plans for grant resubmissions.
CALL 800.790.2258
X
Collaboratory