Saliva Collection for Adults & Children 6+ Years Old
The passive drool collection method from Salimetrics features the patented SalivaBio Collection Aid. When paired with the SalivaBio cryovials, participants and patients can easily collect up to 1.8mL of whole saliva on their own without supervision. For applications where more than 1.8 mL is desired, the SalivaBio Collection Aid can be paired with externally threaded cryogenic tubes from Wheaton, Nunc and Greiner Bio One, all of which are readily available. Contact Salimetrics for more information.
Passive drool (also called "mixed" saliva) is considered by many researchers to be the gold standard when collecting saliva samples for biological testing, because it provides the purest sample possible and allows researchers to "biobank" samples for future testing. Although collecting whole saliva by spitting or drooling might seem to be easy, it can actually be a messy task that discourages some participants from donating samples. The SalivaBio's Passive Drool saliva collection method includes everything you need to reduce mess, increase compliance, accelerate sample collection, and preserve sample integrity. Complete with cryovial, saliva collection aid, and sample collection instructions, this saliva collection system is ready to use in the field or on-site.
Technical Summary
Method Instructions

Specifications
Intended Use:
Adults, Children 6+
Volume Capacity:
2 mL
Regulatory Status:
FDA Listed, CE Marked
Material Composition:
Polypropylene
Cryovial Size:
13 mm x 46 mm
Approved for Analytes
ALL - Passive drool provides the most robust sample for all analytes
Recommended

Handling & Storage

Accessories
2″ Swab/Conical Tube Storage Box
The SalivaBio LLC cryostorage box is designed to promote better sample organization and storage. The new SalivaBio box features key advantages over a traditional 2″ cryostorage box: a water-resistant laminated cover extends the lifetime of the box by reducing wear that can occur over several freeze-thaw cycles; a rigid 81-cell plastic grid will not bend or crush easing sample placement and removal; and integrated grid-lines simplify sample identification on the box that makes it easy to find and replace samples. The new box also features an attached, hinged lid, to minimize bench-space and keep samples organized.
Specifications

Item#

5023.05
Size:
134 mm x 134 mm x 51 mm (5.25×5.25×2")
Qty:
Each
Order Online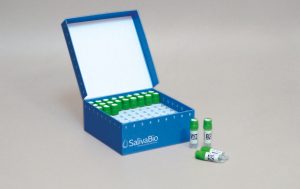 Bar-Coded Sample Labels
​Small polypropylene labels which adhere to tubes frozen to -80°C and will not fall off upon thawing. Sample ID number, study name and barcode are pre-printed onto the 1-in square labels ensuring positive sample identification during saliva collections.
Specifications

Item#

5009.07
Size:
26 mm x 26 mm (1″ x 1″)
Qty:
Each
Order Online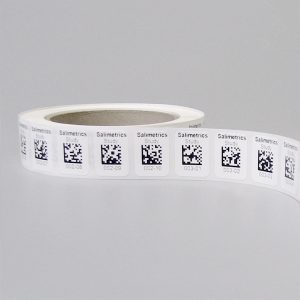 Contact: Salimetrics (USA)
RESTART YOUR SAMPLE COLLECTION
Safe Saliva Collection in the COVID-19 Era
We have Good News!
Successfully recalibrate your saliva collection and handling procedures with these new safety and compliance guidelines for the COVID-19 era. These guidelines are good practice, easy to follow, and will allow you to begin or continue your research during this historical period of stress and unease… (Read More)
CALL 800.790.2258
ASK AN EXPERT   REQUEST A QUOTE
X
Restart Collection