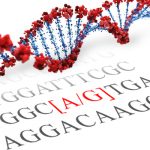 Catechol-O-methyltransferase (COMT), an enzyme that is involved in the degradation of catecholamine neurotransmitters (e.g., dopamine, epinephrine, and norepinephrine), can affect executive functions involved in cognitive flexibility, impulse control, abstract thought, and the ability to follow instructions (1, 2, 3). The well-studied COMT SNP rs4680, results in a valine (Val) to methionine (Met) substitution at position 158 (Val158Met), affects COMT's ability to catabolize catecholamines. Individuals with the Val158 homozygote variant degrade dopamine four times faster than those homozygous for methionine at 158. The Met158 variant, on the other hand, has reduced functional enzyme activity leading to increased levels of dopamine within the brain (4, 5, 6).
Read More...
This polymorphism is commonly referred to as the 'Worrier or Warrior' variation, with about 18% of the population carrying the Met/Met 'worrier' phenotype, 37% having the Val/Val 'warrior' phenotype, and 45% with an allele each, and no distinctive phenotype (7). Interestingly, the Val158 'warrior' variant was advantageous when processing aversive stimuli, while the Met158 'worrier' variant was associated with higher efficiency in memory and attention tasks (6). Kennedy et al. 2011, more recently showed worriers (Met/Met) had an advantage over the warriors Val/Val and the Val/Met variants in executive functioning and working memory performance in flight simulator performance studies (8). The COMT SNP rs4680 has wide ranging effects due to its impact on dopamine levels, and has also been shown to alter behavior within certain psychiatric disorders, such as schizophrenia and bipolar disorder (9, 10)
When interpreting data from your current study or planning for the future, consider the polymorphisms that influence brain function. For a complete list of SNPs available for research, we recommend contacting one of our experts for guidance on the most relevant selections for your research.
Show less...

TECHNICAL SUMMARY
Assay Methodology
Methodology: Genomic DNA, purified using silica based membrane columns is analyzed by TaqMan® SNP Genotyping Assays run on the 7900HT real time PCR system
Yield: 2-5 ug genomic DNA

How to collect Catechol-O-methyltransferase – COMT
APPROVED SALIVARY DNA COLLECTION METHODS