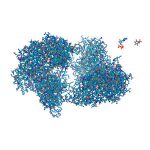 Total protein is a non-specific measure of the total amount of all proteins present in a solution. It is used to examine changes in overall protein secretion in blood or saliva that are associated with disease states, or to look for differences in the ratio of specific proteins (or other analytes) to total protein that exist in different oral fluids or that occur in response to physiological changes or disease states. (1-6) Total protein is also sometimes used to normalize concentrations of various salivary proteins such as SIgA in different samples, since concentrations can vary significantly in response to stimulation or alterations of saliva flow. (5) It has been suggested, however, that this practice may be misleading because of differences that exist in the control of secretion of individual salivary proteins among the different salivary glands. (7-9) Changes in total protein in saliva and gingival crevicular fluid have been examined in relation to the presence of periodontal disease, and it may have some use as a marker of certain disease conditions. (10,11)
Read More...
Our laboratory uses the Pierce bicinchoninic acid assay (BCA assay), which is compatible with various chemicals in buffers that can cause interference in other protein determination methods, such as the older Lowry method.​
Show less...
Technical Summary
Analyte Summary
Analyte:
​Total Protein
Aliases:
TP
Serum-Saliva Correlation:
NA
Optimum Collection Volume:
75 μL*
*Add 300 µl to the total volume of all tests for liquid handling
Assay Summary
Methodology:
Colorimetric Assay
Sensitivity:
5 μg/mL
Assay Range:
-------
Assay Type:
Quantitative
Collect Saliva Samples
TOTAL PROTEIN SALIVA COLLECTION CONSIDERATIONS
Better results begin with better saliva collection. This collection protocol features general considerations to maximize salivary ​Total Protein analysis. Use this analyte specific collection protocol to plan your collection methodology and sampling schemes.
APPROVED SALIVARY TOTAL PROTEIN COLLECTION METHODS
Test Saliva Samples
@ Salimetrics
Salimetrics SalivaLab - Easy & Accurate
| | |
| --- | --- |
| Order Code (lab): | 5301 |
| Transport Requirements: | Ship on Dry Ice |
@ Your Own Lab
Salimetrics Assay Kits - Better Results
The validated method used by Salimetrics is proprietary and not available in assay kit form at this time.
Add

DNA Analysis

to My Study
Considerations for adding Salivary DNA to analyte Studies:
You can combine salivary analytes with easy, accurate, and affordable genomic testing using Salimetrics SalivaLab and the same sample that you are already collecting – no specialized saliva collection devices or additional samples are required.
Don't know what SNPs are right for you? The SalivaLab's DNA team specializes in genetic testing services, we recommend you Request a DNA Consult (gratis) to learn more about common considerations such as # of samples, participant ethnicity, and IRB Approval.
All DNA Services
DNA Extraction and Normalization
Single Nucleotide Polymorphism (SNP) Genotyping
VNTR & STR Analysis
References & Salivary Total Protein Research
de Oliveira, V.N., Bessa, A., Lamounier, R.P., et al. (2010).  Changes in the salivary biomarkers induced by an effort test.  Int J Sports Med, 31(6), 377-81.
Aydin, S. (2007). A comparison of ghrelin, glucose, alpha-amylase and protein levels in saliva from diabetics.  J Biochem Mol Biol, 40(1), 29-35.
Sivakumar, T., Hand, A.R., Mednieks, M. (2009).  Secretory proteins in the saliva of children.  J Oral Sci, 51(4), 573-80.
Shi, D., Meng, H., Xu, L., et al. (2008).  Systemic inflammation markers in patients with aggressive periodontitis: A pilot study.  J Periodontol, 79(12), 2340-46.
Lee, J.Y., Chung, J.W., Kim, Y.K., et al. (2007).  Comparison of the composition of oral mucosal residual saliva with whole saliva.  Oral Dis, 13(6), 550-54.
Furuholm, J., Sorsa, T., Qvarnstrom, M., et al. (2006).  Salivary matrix metalloproteinase-8 in patients with and without coronary heart disease may indicate an increased susceptibility to periodontal disease.  J Periodontal Res, 41(5), 486-89.
Brandtzeg, P. (2007). Do salivary antibodies reliably reflect both mucosal and systemic immunity?  Ann N Y Acad Sci, 1098, 288-311.
Rudney, J.D., Smith, Q.T. (1985). Relationships between levels of lysozyme, lactoferrin, salivary perioxidase, and secretory immunoglobulin A in stimulated parotid saliva.  Infect Immun, 49(3), 469-75.
Bishop, N.C., Gleeson, M. (2009). Acute and chronic effects of exercise on markers of mucosal immunity.  Front Biosci, 1(14), 4444-56.
Burgener, B., Ford, A.R., Situ, H., et al. (2010).  Biologic markers for odontogenic periradicular periodontitis.  J Endod, 36(8), 1307-10.

Andersen, E., Dessaix, I.M., Mombelli, A. (2010).  Myeloid-related protein (MRP8/14) expression in gingival crevice fluid in periodontal health and disease and after treatment.  J Periodont Res, 45(4), 458-63.