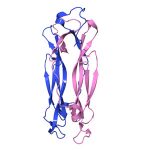 Human Interleukin-17A (IL-17A), is a disulfide linked glycoprotein that is secreted as a 17.5 kDa homodimer mainly by activated T-helper 17 (Th17) cells (1, 2). IL-17A is an important regulator of inflammation whose signaling induces pro-inflammatory cytokines and chemokines that recruit cells of the innate immune system to sites of infection (2). IL-17A also induces IL-23 production which drives Th17 cell maintenance and expansion. IL-17A is a marker for chronic inflammation. In fact, elevated levels of IL-17A have been associated with many chronic inflammatory diseases and autoimmune diseases including rheumatoid arthritis (RA) (3), inflammatory bowel disease (IBD) (4), psoriasis (5), psoriatic arthritis (6), multiple sclerosis (MS) and systemic lupus erythematosus (SLE) (1). IL-17A is also elevated in fluids from the lungs of patients with asthma and COPD. It comes as no surprise that IL-17A is a popular drug target and drugs (ixekizumab, secukinumab ) have been approved by the FDA for psoriasis, psoriatic arthritis (6) and are being used off label for treating RA, IBD and SLE. More specific to functions associated with the oral cavity, IL-17A is also involved in Sjogren's syndrome and defense against candidiasis.
Technical Summary
Analyte Summary
Analyte:
Interleukin-17A
Aliases:
IL-17A, IL-17
Serum-Saliva Correlation:
NA
Optimum Collection Volume:
100 μL
Assay Summary
Methodology:
ECL
Sensitivity:
0.74 pg/mL
Assay Range:
0.74 – 3653 pg/mL
Assay Type:
Quantitative
Collecting Saliva for Cytokines
CYTOKINE SALIVA COLLECTION CONSIDERATIONS
Better results begin with better saliva collection. This collection protocol features general considerations to maximize salivary cytokine analysis. Use this analyte specific collection protocol to plan your collection methodology and sampling schemes.
APPROVED SALIVARY CYTOKINE COLLECTION METHODS
Test Saliva Samples
@ Salimetrics
Salimetrics SalivaLab - Easy & Accurate
| | |
| --- | --- |
| Order Code (lab): | 5209.09 |
| Transport Requirements: | Ship on Dry Ice |
| Related Panels and Profiles: | Salivary Cytokine Panel |
@ Your Own Lab
Salimetrics Assay Kits - Better Results
The validated method used by Salimetrics is proprietary and not available in assay kit form at this time.
Add

DNA Analysis

to My Study
Considerations for adding Salivary DNA to analyte Studies:
You can combine salivary analytes with easy, accurate, and affordable genomic testing using Salimetrics SalivaLab and the same sample that you are already collecting – no specialized saliva collection devices or additional samples are required.
Don't know what SNPs are right for you? The SalivaLab's DNA team specializes in genetic testing services, we recommend you Request a DNA Consult (gratis) to learn more about common considerations such as # of samples, participant ethnicity, and IRB Approval.
All DNA Services
DNA Extraction and Normalization
Single Nucleotide Polymorphism (SNP) Genotyping
VNTR & STR Analysis
References & Salivary IL-17A Research
McGeachy MJ, Cua DJ, Gaffen SL. (2019). The IL-17 Family of Cytokines in Health and Disease. Immunity. 50(4):892-906.
Veldhoen M. (2017). Interleukin 17 is a chief orchestrator of immunity. Nat Immunol. 18(6):612-21.
Lubberts E. (2015). The IL-23-IL-17 axis in inflammatory arthritis. Nature reviews Rheumatology. 11(10):562.
Geremia A, Jewell DP. (2012). The IL-23/IL-17 pathway in inflammatory bowel disease. Expert Rev Gastroenterol Hepatol. 6(2):223-37.
Brembilla NC, Senra L, Boehncke WH. (2018). The IL-17 Family of Cytokines in Psoriasis: IL-17A and Beyond. Front Immunol. 9:1682.
Mease P, McInnes IB. (2016). Secukinumab: A New Treatment Option for Psoriatic Arthritis. Rheumatol Ther. 3(1):5-29.