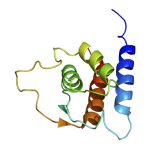 Human interleukin-13 (IL-13) is secreted by a variety of immune cells as a 15.8 kDa, glycosylated monomeric cytokine involved in a number of biological processes. It stimulates B-cell proliferation, macrophage activation, immunoglobulin production, protein secretion, and phosphorylation of Stat6 protein. IL-13 is a central regulator of IgE synthesis, mucus hypersecretion and a mediator of allergic inflammation. It is involved in a number of disorders including asthma, COPD, allergic rhinitis, atopic dermatitis, inflammatory bowel disease, and colorectal cancer (1,2). Salivary IL-13 levels may reflect those observed in the airways in diseases like asthma and COPD.
Technical Summary
Analyte Summary
Analyte:
Interleukin-13
Aliases:
IL-13
Serum-Saliva Correlation:
NA
Optimum Collection Volume:
100 μL
Assay Summary
Methodology:
ECL
Sensitivity:
0.24 pg/mL
Assay Range:
0.24 – 2072 pg/mL
Assay Type:
Quantitative
Collecting Saliva for Cytokines
CYTOKINE PANEL SALIVA COLLECTION CONSIDERATIONS
Better results begin with better saliva collection. This collection protocol features general considerations to maximize salivary cytokine analysis. Use this analyte specific collection protocol to plan your collection methodology and sampling schemes.
APPROVED SALIVARY CYTOKINE COLLECTION METHODS
Test Saliva Samples
@ Salimetrics
Salimetrics SalivaLab - Easy & Accurate
| | |
| --- | --- |
| Order Code (lab): | 5209.06 |
| Transport Requirements: | Ship on Dry Ice |
| Related Panels and Profiles: | Salivary Cytokine Panel |
@ Your Own Lab
Salimetrics Assay Kits - Better Results
The validated method used by Salimetrics is proprietary and not available in assay kit form at this time.
Add

DNA Analysis

to My Study
Considerations for adding Salivary DNA to analyte Studies:
You can combine salivary analytes with easy, accurate, and affordable genomic testing using Salimetrics SalivaLab and the same sample that you are already collecting – no specialized saliva collection devices or additional samples are required.
Don't know what SNPs are right for you? The SalivaLab's DNA team specializes in genetic testing services, we recommend you Request a DNA Consult (gratis) to learn more about common considerations such as # of samples, participant ethnicity, and IRB Approval.
All DNA Services
DNA Extraction and Normalization
Single Nucleotide Polymorphism (SNP) Genotyping
VNTR & STR Analysis
References & Salivary Interleukin-13 Research
Ingram JL, Kraft M. IL-13 in asthma and allergic disease: asthma phenotypes and targeted therapies. J Allergy Clin Immunol. 2012;130(4):829-42; quiz 43-4.
Mao YM, Zhao CN, Leng J, Leng RX, Ye DQ, Zheng SG, et al. Interleukin-13: A promising therapeutic target for autoimmune disease. Cytokine Growth Factor Rev. 2019;45:9-23.
Rajendran P, Chen YF, Chen YF, Chung LC, Tamilselvi S, Shen CY, et al. The multifaceted link between inflammation and human diseases. Journal of cellular physiology. 2018;233(9):6458-71.
Val M, Sidoti Pinto GA, Manini L, Gandolfo S, Pentenero M. Variations of salivary concentration of cytokines and chemokines in presence of oral squamous cell carcinoma. A case-crossover longitudinal prospective study. Cytokine. 2019;120:62-5.
Wang X, Kaczor-Urbanowicz KE, Wong DT. Salivary biomarkers in cancer detection. Med Oncol. 2017;34(1):7.
Huck O, Buduneli N, Bravo D. Inflammatory Mediators in Periodontal Pathogenesis. Mediators Inflamm. 2019;2019:2610184.
Silva N, Abusleme L, Bravo D, Dutzan N, Garcia-Sesnich J, Vernal R, et al. Host response mechanisms in periodontal diseases. J Appl Oral Sci. 2015;23(3):329-55.
Gaba FI, Sheth CC, Veses V. Salivary biomarkers and their efficacies as diagnostic tools for Oral Squamous Cell Carcinoma: Systematic review and meta-analysis. J Oral Pathol Med. 2018.
Slavish DC, Graham-Engeland JE, Smyth JM, Engeland CG. Salivary markers of inflammation in response to acute stress. Brain, behavior, and immunity. 2015;44:253-69.
Sheth CC, Lopez-Pedrajas RM, Jovani-Sancho MDM, Gonzalez-Martinez R, Veses V. Modulation of salivary cytokines in response to alcohol, tobacco and caffeine consumption: a pilot study. Sci Rep. 2018;8(1):16687.