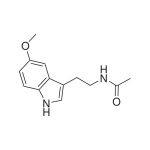 Need a DLMO Test?
Salimetrics all-inclusive,
Home DLMO Test Kit
for researchers, clinicians, or personal use is now available.
Dim Light Melatonin onset as a biomarker for the analysis of circadian rhythm, for chronobiological disorders and obstructive sleep-wake phase shifts.
With the increased clinical focus on sleep as it relates to many aspects of human health and performance, "Dim Light Melatonin Onset" (DLMO) continues to serve as a pivotal tool to assess circadian rhythm sleep disorders and associated health concerns. DLMO, the time at which melatonin levels rise above daytime baseline levels, can reliably be assessed using saliva, as salivary melatonin concentrations are highly correlated with levels in the blood. Frequent saliva sampling for DLMO estimation can be performed in the comfort of one's home and does need an overnight stay at a sleep lab. Determining DLMO is relevant in discriminating circadian rhythm related sleep issues from other non-circadian related sleep disorders, and it is also important in establishing the timing of exogenous melatonin administration when treating delayed phase sleep disorders. Sleep functions and circadian timing are also known to contribute to diseases such as cancer, heart disease, obesity, and diabetes, and researchers are increasingly focused on elucidating the role of phase shift disorders and their impact on these diseases.

Technical Summary
Profile Summary
Optimum Collection Volume:
500 μL/sample
Total Number of Samples Required:
Variable (7 Recommended)
Interfering Factors
Avoid foods such as pitted fruit, bananas and chocolate 24 hours before sample collection.
Assay Summary
Methodology:
ELISA
Sensitivity:
1.37 pg/mL
Assay Range:
0.78-50 pg/mL
Assay Type:
Quantitative
Articles and Technical Documentation
About Salivary DLMO
Salivary Melatonin measures in the form of a DLMO profile have been shown to be a reliable method to assess endogenous circadian rhythms. While the hormone melatonin continues to play a critical role in determining an individual's sleep-wake rhythm, the timing of melatonin onset has been shown to strongly correlate with sleep onset and continuity. Therefore, to fully assess phase shifted melatonin rhythms or disturbances in the sleep-wake cycle, it is often necessary to understand individual circadian rhythms. To accurately perform this assessment, researchers commonly utilize salivary melatonin as a marker of dim light melatonin onset or a salivary DLMO profile as the preferred method for many sleep-wake disorder studies. Salivary melatonin profiles now provide a personalized window of circadian timing that effectively enables researchers to determine circadian phase position and study the influence of circadian timing.
Read the Bulletin: Assessing Circadian Rhythm Sleep Disorders and Associated Health Concerns Based on Salivary Melatonin and Dim Light Melatonin Onset (DLMO)

How to collect Salivary DLMO Profile
APPROVED SALIVARY MELATONIN COLLECTION METHODS
References & Salivary DLMO Research
Burgess, H.J., Park, M., Wyatt, J.K., and Fogg, L.F. (2016). Home dim light melatonin onsets with measures of compliance in delayed sleep phase disorder. Journal of sleep research 25, 314-317.
Burgess, H.J., Wyatt, J.K., Park, M., and Fogg, L.F. (2015). Home Circadian Phase Assessments with Measures of Compliance Yield Accurate Dim Light Melatonin Onsets. Sleep 38, 889-897.
Challet, E. (2015). Keeping circadian time with hormones. Diabetes Obes Metab 17 Suppl 1, 76-83.
Keijzer, H., Smits, M.G., Duffy, J.F., and Curfs, L.M. (2014). Why the dim light melatonin onset (DLMO) should be measured before treatment of patients with circadian rhythm sleep disorders. Sleep Med Rev 18, 333-339.
Lewy, A.J., Sack, R.L., Blood, M.L., Bauer, V.K., Cutler, N.L., and Thomas, K.H. (1995). Melatonin marks circadian phase position and resets the endogenous circadian pacemaker in humans. Ciba Found Symp 183, 303-317; discussion 317-321.
Molina, T.A., and Burgess, H.J. (2011). Calculating the dim light melatonin onset: the impact of threshold and sampling rate. Chronobiol Int 28, 714-718.
Murray, J.M., Sletten, T.L., Magee, M., Gordon, C., Lovato, N., Bartlett, D.J., Kennaway, D.J., Lack, L.C., Grunstein, R.R., Lockley, S.W., et al. (2017). Prevalence of Circadian Misalignment and Its Association With Depressive Symptoms in Delayed Sleep Phase Disorder. Sleep 40.
Nagtegaal, E., Peeters, T., Swart, W., Smits, M., Kerkhof, G., and van der Meer, G. (1998). Correlation between concentrations of melatonin in saliva and serum in patients with delayed sleep phase syndrome. Ther Drug Monit 20, 181-183.
Voultsios, A., Kennaway, D.J., and Dawson, D. (1997). Salivary melatonin as a circadian phase marker: validation and comparison to plasma melatonin. J Biol Rhythms 12, 457-466.
Zelinski, E.L., Deibel, S.H., and McDonald, R.J. (2014). The trouble with circadian clock dysfunction: multiple deleterious effects on the brain and body. Neurosci Biobehav Rev 40, 80-101.