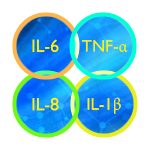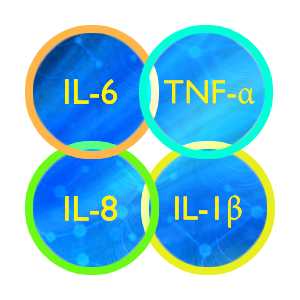 The Salimetrics cytokine panel measures IL-1β, IL-6, IL-8 & TNF-α concentrations simultaneously using a single, 100 µl saliva sample and features convenient panel pricing. Small sample volumes can be especially beneficial for infant, children, or animal studies and for research where investigators are routinely limited in the amount of saliva that can be collected.
Read More...
IL-1β, IL-8 and TNF-α are three important examples of a class of signaling molecules known as pro-inflammatory cytokines, which play an important role in initiating the body's acute phase inflammatory response to infections, injuries, or possibly stress. IL-1β and to a lesser extent TNF-α, have been strongly associated with oral inflammatory conditions including gingivitis and periodontal disease. These conditions play a larger role in more severe systemic diseases such as cardiovascular disease and diabetes. IL-6 also induces the production of C-reactive protein (CRP) in the liver, which when elevated chronically can lead to obesity. Importantly, several reports indicate that all four cytokines may contribute to the pathogenesis of certain oral cancers and have been implicated as markers for early oral cancer detection. Therefore, in addition to their utility in assessing oral inflammation, these markers may also be of interest in other fields, including cancer, asthma, and stress research.
Show less...
Technical Summary
Profile Summary
Optimum Collection Volume:
100 μL
Total Number of Samples Required:
1
Assay Summary
Assay Range:
  TNF-alpha:
0.0314-380 pg/mL
  IL-1 beta:
0.0195-589 pg/mL
  IL-6:
0.0491-736 pg/mL
  IL-8:
0.0201-574 pg/mL
How to Collect Saliva for Cytokines
CYTOKINE PANEL SALIVA COLLECTION CONSIDERATIONS
Better results begin with better saliva collection. This collection protocol features general considerations to maximize salivary Cytokine analysis. Use this saliva collection protocol to plan your collection methodology and sampling schemes.
APPROVED SALIVARY CYTOKINE PANEL COLLECTION METHODS
Analyte Summary
IL-6 –

Human interleukin-6 (IL-6) is involved in numerous biological processes including inflammation, aging, cell growth, apoptosis, and bone remodeling. It is a 23.7 kDa cytokine with two disulfide bonds that is secreted mainly by T cells and macrophages and is also released from muscle cells during exercise in response to muscle contraction. IL-6 induces an acute phase response and plays an essential role in differentiating B cells into immunoglobulin-secreting cells. IL-6 is also a potent inducer of C-reactive protein in the liver. IL-6 is involved in osteoporosis, pulmonary fibrosis, liver cirrhosis, ischemia, and berylliosis, among other disorders.
IL-1 Beta –

Human interleukin-1β (IL-1β), also known as IL-1F2, is a 30.7 kDa pro-inflammatory cytokine that is produced by activated macrophages. IL-1β stimulates thymocyte proliferation by inducing IL-2 release, B-cell maturation and proliferation, and fibroblast growth factor activity. IL-1β is involved in a number of biological activities ranging from aging to wound healing. Along with IFN-γ, IL-6, and TNF-α, IL-1β is a pyrogenic cytokine that induces the production of prostaglandins, the major mediators of fever induction. IL-1β is also strongly associated with oral inflammatory diseases including gingivitis and periodontal disease.
TNF-Alpha –

Human tumor necrosis factor alpha (TNF-α) is a potent proinflammatory cytokine that induces the classic signs of inflammation to occur locally and is one of the cytokines that make up the acute phase reaction. TNF is mainly produced by activated macrophages as a 25.6 kDa protein that forms a noncovalent homotrimer, but can also be secreted by a variety of cells. Large amounts of TNF are released in response to lipopolysaccharide and other bacterial components and interleukin-1. It is a potent chemoattractant for neutrophils. It also stimulates IL-1, which induces cachexia and causes fever. It can also induce sepsis and inflammation and can inhibit tumorigenesis and viral replication. Chronic TNF dysregulation has been associated with autoimmune diseases such as rheumatoid arthritis and inflammatory bowel disease as well as psoriasis and asthma. TNF can be inhibited by the exercise induced myokines such as IL-6 and IL-10.
IL-8 –

Human interleukin-8 (IL-8). It is an 11.1 kDa CXC family chemokine that is expressed by several cell types in response to inflammation. It attracts neutrophils, basophils, and T-cells but not monocytes and is also involved in neutrophil activation. IL-8 is secreted as a protein that is proteolytically cleaved to form several processed forms with varying activity. This proinflammatory chemokine is associated with numerous disorders including acute pancreatitis.
References & Salivary Cytokine Research
Bishop, N.C. & Gleeson, M. (2009). Acute and chronic effects of exercise on markers of mucosal immunity. AFront Biosci, 14, 4444-56.
Brandtzaeg, P. (2007). Do salivary antibodies reliably reflect both mucosal and systemic immunity? . Ann N Y Acad Sci, 1098, 288-311.
Brennan, M.T. & Fox, P.C. (2000). Cytokine mRNA expression in the labial salivary glands of healthy volunteers. Oral Dis, 6(4), 222-26.
Chiapelli, F., Iribarren, F.J., & Prolo, P. (2006). Salivary biomarkers in psychobiological medicine. . Bioinformation, 1(8), 331-4.
Minetto, M.A., Gazzoni, M., Fanfranco, F., Baldi, M., Saba, L., Pedrola, R., Komi, P.V., & Rainoldi, A. (2007). Influence of the sample collection method on salivary interleukin-6 levels in resting and post-exercise conditions. Eur J Appl Physiol, 101(2), 249-56.
Ng, P.Y., Donley, M., Hausmann, E., Hutson, A.D., Rossomando, E.F., & Scannapieco, F.A. (2007). Candidate salivary biomarkers associated with alveloar bone loss: Cross-sectional and in vitro studies. FEMS Immuno Med Microbiol, 49(2), 252-60.
Ruhl, S., Hamberger, S., Betz, R., Sukkar, T., Schmalz, G., Seymour, R.A., Hiller, K.A., & Thomason, J.M. (2004). Salivary proteins and cytokines in drug-induced gingival overgrowth. J Dent Res, 83(4), 322-6.
Sjögren, E., Leanderson, P., Kristenson, M., & Ernerudh, J. (2006). Interleukin-6 levels in relation to psychosocial factors: Studies on serum, saliva, and in vitro production by blood mononuclear cells. . Brain Behav Immun, 20(3), 270-78.
Wozniak, K.L. Arribas, A., Leigh, J.E., & Fidel, P.L., Jr. (2002). Inhibitory effects of whole and parotid saliva on immunomodulators. Oral Microbiol Immunol, 17(2), 100-07.