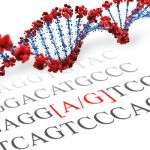 Research studies surveying behavioral associations with SNPs in the Oxytocin Receptor Gene (OXTR) have found links to emotional regulation, behaviors, personality traits, and socially-related diagnoses (1). In similar high-impact studies, OXTR polymorphisms have been associated with the influence or regulation of human behaviors, such as stress reactivity, social perception, reproduction, and empathy (2, 3). Individuals with the A allele in the OXTR SNP (rs53576) have been shown to possess lower levels of optimism, mastery, parenting skills, and self-esteem, while individuals with the G allele exhibit higher behavioral and dispositional empathy (3, 4). This research suggests that genetic variation within the OXTR gene delegates specific socioemotional functions within stress and empathy processes.
Read More...
The Salimetrics SalivaLab offers easy, accurate, and affordable genomic testing of a wide variety of SNPs, including the OXTR SNPs that are most represented in the biobehavioral literature (rs53576, rs1042778, and rs237887). Best of all, our protocols obtain DNA from the same SalivaBio collection devices that you are already using and familiar with – you don't need any specialized collection devices.
When interpreting data from your current study or planning for the future, consider the polymorphisms that influence social behavior and personality. For a complete list of SNPs available for research, we recommend contacting one of our experts for guidance on the most relevant selections for your research.
Show less...

TECHNICAL SUMMARY
Gene Summary
Gene:
Oxytocin Receptor
Gene Symbol:
OXTR
Related Analyte(s):
Cortisol
Assay Methodology
Methodology: Genomic DNA, purified using silica based membrane columns is analyzed by TaqMan® SNP Genotyping Assays run on the 7900HT real time PCR system
Yield: 2-5 ug genomic DNA

How to collect Oxytocin Receptor – OXTR
APPROVED SALIVARY DNA COLLECTION METHODS