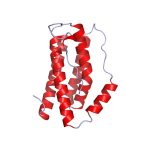 ​Interleukin-6 (IL-6) is one of a family of biologically active small protein molecules known as cytokines.  It is released by a variety of tissues, including activated leukocytes, adipocytes, and endothelial cells, and it is involved in many processes in the body.  IL-6 plays an important role in stimulating the immune response to infection or trauma by inducing the production of acute-phase proteins such as CRP and by fever induction.  (1-3)  In addition to its pro-inflammatory role, IL-6 also has anti-inflammatory properties. (4)  Messenger RNA for IL-6 has been found in tissues of healthy human labial salivary glands, and the expression levels of the mRNAs were either up- or down-regulated by adjacent focal infiltrating lymphoid cells. The epithelial cells in the salivary glands are active participants in the autoimmune-mediated process of Sjögren's syndrome, and salivary levels of IL-6 are increased in this disease. (5,6)  Salivary IL-6 levels are also increased in periodontal disease. (7)
Read More...
Researchers have found relationships between salivary IL-6 and sleep dysfunction, psychosocial factors, and stress. (8,9,10)  A study with mice has shown that normal parotid acinar cells synthesize IL-6 and store it in secretory granules.  The IL-6 is released from the granules following α- and β-adrenergic stimulation. (11)​
Show less...
Technical Summary
Analyte Summary
Analyte:
Interleukin-6
Aliases:
IL-6
Serum-Saliva Correlation:
NA
Optimum Collection Volume:
135 μL*
*Add 300 µl to the total volume of all tests for liquid handling
Assay Summary
Methodology:
ELISA
Sensitivity:
0.07 pg/mL
Assay Range:
0 – 100 pg/mL
Assay Type:
Quantitative
| | |
| --- | --- |
| Methodology: | ECL |
| Sensitivity: | 0.06 pg/mL |
| Assay Range: | 0.06 – 3068 pg/mL |
| Assay Type: | Quantitative |
*In normal, healthy individuals IL-6 ranges commonly fall below the level of detection
Collect Saliva Samples
INTERLEUKIN-6 SALIVA COLLECTION CONSIDERATIONS
Better results begin with better saliva collection. This collection protocol features general considerations to maximize salivary IL-6 analysis. Use this analyte specific collection protocol to plan your collection methodology and sampling schemes.
APPROVED SALIVARY IL-6 COLLECTION METHODS
Test Saliva Samples
@ Salimetrics
Salimetrics SalivaLab - Easy & Accurate
| | |
| --- | --- |
| Order Code (lab): | 5210 |
| Transport Requirements: | Ship on Dry Ice |
| Related Panels and Profiles: | Salivary Cytokine Panel |
@ Your Own Lab
Salimetrics Assay Kits - Better Results
Add

DNA Analysis

to My Study
Considerations for adding Salivary DNA to analyte Studies:
You can combine salivary analytes with easy, accurate, and affordable genomic testing using Salimetrics SalivaLab and the same sample that you are already collecting – no specialized saliva collection devices or additional samples are required.
Don't know what SNPs are right for you? The SalivaLab's DNA team specializes in genetic testing services, we recommend you Request a DNA Consult (gratis) to learn more about common considerations such as # of samples, participant ethnicity, and IRB Approval.
All DNA Services
DNA Extraction and Normalization
Single Nucleotide Polymorphism (SNP) Genotyping
VNTR & STR Analysis
References & Salivary IL-6 Research
McCarty, M.F. (1999). Interleukin-6 as a central mediator of cardiovascular risk associated with chronic inflammation, smoking, diabetes, and visceral obesity: Down-regulation with essential fatty acids, ethanol and pentoxifylline.  Med Hypotheses, 52(5), 465-77.
Castell, J.V., Gomez-Lechon, M.J., David, M., et al. (1990).  Acute-phase response of human hepatocytes: Regulation of acute-phase protein synthesis by interleukin-6.  Hepatology, 12(5), 1179-86.
Chai, Z., Gatti, S., Toniatti, C., et al. (1996). Interleukin (IL)-6 gene expression in the central nervous system is necessary for fever response to lipopolysaccharide or IL-1β: A study on IL-6-deficient mice.  J Exp Med, 183(1), 311-16.
Tilg, H., Trehu, E., Atkins, M.B. (1994).  Interleukin-6 (IL-6) as an anti-inflammatory cytokine: Induction of circulating IL-1 receptor antagonist and soluble tumor necrosis factor receptor p55.  Blood, 83(1), 113-18.
Sun, D., Emmert-Buck, M.R., Fox, P.C. (1998).  Differential cytokine mRNA expression in human labial minor salivary glands in primary Sjögren's syndrome.  Autoimmunity, 28(3), 125-37.
Tishler, M., Yaron, I., Shirazi, I., et al. (1999).  Increased salivary interleukin-6 levels in patients with primary Sjögren's syndrome.  Rheumatol Int, 18(4), 125-27.
Costa, P.P., Trevisan, G.L., Macedo, G.O., et al.  (2010).  Salivary interleukin-6, matrix metalloproteinase-8, and osteoprotegerin in patients with periodontitis and diabetes.  J Periodontology, 81(3), 384-91.
El-Sheikh, M., Buckhalt, J.A., Granger, D.A., et al. (2007).  The association between children's sleep disruption and salivary interleukin-6.  J Sleep Res, 16(2), 188-97.
Sjögren, E., Leanderson, P., Kristenson, M., Ernerudh, J. (2006).  Interleukin-6 levels in relation to psychosocial factors: Studies on serum, saliva, and in vitro production by blood mononuclear cells.  Brain Behav Immun, 20(3), 270-78.
Groer, M., Murphy, r., bunnell, W., et al. (2010).  Salivary measures of stress and immunity in police officers engaged in simulated critical incident scenarios.  J Occup Environ Med, 52(6), 595-602.

Tanda, N., Ohyama, H., Yamakawa, M., et al. (1998). IL-1β and IL-6 in mouse parotid acinar cells: Characterization of synthesis, storage, and release.  Am J Physiol, 274(1 Pt 1), G147-56.