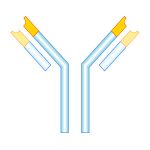 Immunoglobulin G (IgG) is critical for host immune-defense against infectious pathogens and is the most abundant antibody found in blood. Within the IgG class, there are four subclasses (IgG1, IgG2, IgG3 and IgG4). The term total IgG collectively refers to all IgG subclasses all of which have varying unique reactivities. In most cases an immune response includes a mixture of all four antibody subclasses. In saliva, IgG diffuses from serum most commonly through gingival crevices but can also be produced locally. IgG levels in saliva are generally in the microgram per milliliter range, while in blood they are much higher, in the milligram per milliliter range (1). Since salivary IgG levels vary compared to blood, this assay is helpful to qualify the quantity of total IgG in the sample as a means of sample quality assurance for instance when performing serological studies. Importantly, the reactivity of salivary IgG mirrors that of serum IgG, so oral fluid is an attractive alternative sample to blood for serological studies where antibody levels indicate an individual's immune status to a pathogen of interest (4, 5). Saliva serology as an alternative to serum enables advantages like home collection or sampling populations where blood draws are a challenge, for instance in small children or the elderly (6). In addition, a recent report has indicated that levels of total IgG in oral fluids are correlated with proinflammatory cytokine levels (7). It has been proposed that total salivary IgG could be used as a surrogate, and inexpensive marker, to index oral inflammation (7). In this case, total IgG in saliva may be a useful covariate in statistical analyses to control for the confounding effects of poor oral health.
Technical Summary
Analyte Summary
Analyte:
Total Immunoglobulin G
Aliases:
IgG
Serum-Saliva Correlation:
NA
Optimum Collection Volume:
50 μL*
*Add 300 µl to the total volume of all tests for liquid handling
Assay Summary
Methodology:
ELISA
Sensitivity:
1.33 µg/mL
Assay Range:
0.3125 - 20 ng/mL
Assay Type:
Quantitative
Collect Saliva Samples
IgG SALIVA COLLECTION CONSIDERATIONS
Better results begin with better saliva collection. This collection protocol features general considerations to maximize salivary immunoglobulin G analysis. Use this analyte specific collection protocol to plan your collection methodology and sampling schemes.
APPROVED SALIVARY IgG COLLECTION METHODS
Test Saliva Samples
@ Salimetrics
Salimetrics SalivaLab - Easy & Accurate
| | |
| --- | --- |
| Order Code (lab): | 5175 |
| Transport Requirements: | Ship on Dry Ice |
@ Your Own Lab
Salimetrics Assay Kits - Better Results
Add

DNA Analysis

to My Study
Considerations for adding Salivary DNA to analyte Studies:
You can combine salivary analytes with easy, accurate, and affordable genomic testing using Salimetrics SalivaLab and the same sample that you are already collecting – no specialized saliva collection devices or additional samples are required.
Don't know what SNPs are right for you? The SalivaLab's DNA team specializes in genetic testing services, we recommend you Request a DNA Consult (gratis) to learn more about common considerations such as # of samples, participant ethnicity, and IRB Approval.
All DNA Services
DNA Extraction and Normalization
Single Nucleotide Polymorphism (SNP) Genotyping
VNTR & STR Analysis
References & Salivary IgG Research