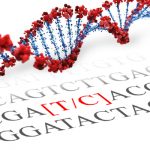 Circadian rhythms occur over a 24-hour period and are known to exhibit self-sustained cycles in behavior, physiology, and metabolism (1). The protein encoded by the CLOCK gene plays a central role in the regulation of these circadian rhythms via its function as a transcriptional regulator of genes involved in maintaining sleep/wake cycles (2).
Read More...
Several studies have demonstrated a correlation between Attention Deficit Hyperactivity Disorder (ADHD), circadian rhythmicity and sleep disturbances in unmedicated ADHD patients (4). Research by Xu et al 2010, supports findings that a genetic variation of the CLOCK gene, rs1801260, is a risk factor in the development of ADHD. The study observed an association between the T allele of the SNP, rs1801260, and increased susceptibility to ADHD (5).
In contrast, this same SNP, also known as CLOCK 3111 T/C, has been linked to eating behaviors and obesity in carriers of the C allele when compared to individuals homozygous for the T allele. Carriers of the C allele were also more resistant to weight loss and recorded shorter durations of sleep (6). Interestingly, another SNP, rs11932595 within the CLOCK gene has also been shown to associate with sleep disruptions and contribute to depression in young adults (7).  Taken together, the research indicates that SNPs in CLOCK genes have an impact on multiple areas of study. For more research on the CLOCK gene, visit SNPedia here.
When interpreting data from your current study or planning for the future, consider the polymorphisms that influence the circadian rhythm and the related disorders. For a complete list of SNPs available for research, we recommend contacting one of our experts for guidance on the most relevant selections for your research.
Show less...

TECHNICAL SUMMARY
Assay Methodology
Genomic DNA, purified using silica based membrane columns is analyzed by TaqMan® SNP Genotyping Assays run on the 7900HT real time PCR system
Yield: 2-5 ug genomic DNA


How to collect Circadian Locomotor Output Cycles Kaput – CLOCK
APPROVED SALIVARY DNA COLLECTION METHODS