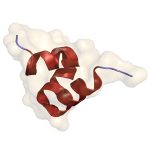 Osteocalcin (also known as OCN, OC, and Bone-Gla-Protein (BGP) or bone gamma-carboxyglutamic acid-containing protein (BGLAP)), is a bone-derived hormone protein released solely by osteoblasts during bone remodeling in vertebrates. Research interest in Osteocalcin has revealed endocrine-related properties related to several physiological pathways. Recent findings suggest that Osteocalcin may also be a key factor in the body's acute response to stress. Osteocalcin has also been reported to serve several key biological functions including the regulation of insulin secretion, increased adaptation to exercise, improved brain development and cognitive functioning, and maintaining male fertility.
Read More...
In a high-profile, 2019 study published in Cell Metabolism, researchers measured significant increases in serum Osteocalcin levels in both humans and mice, in response to an acute stressor, with evidence to indicate Osteocalcin's direct contribution to the body's fight or flight response. This study demonstrated that the increased release of osteocalcin from bones in response to acute stress lead to receptor mediated downstream signaling of post-ganglionic parasympathetic neurons to inhibit their cholinergic activity (1). The study identified the bone as a stress organ and osteocalcin as a stress hormone capable of evolutionarily conferring a survival advantage to bony vertebrates. Increased Osteocalcin levels have been observed within minutes of the application of a stressor in both mice and humans in several studies prior to this one, and its role in stress is well documented (15-16).
In conjunction with exercise, osteocalcin may be a vital catalyst for the increase of interleukin-6 which is important for muscle function while exercising. Results from a 2016 study in mice identified osteocalcin signaling in myofibers as a novel and powerful means to fight age-related decline in muscle function (2). Osteocalcin levels have also been reported to increase in response to exercise, by regulating glucose production in response to energy demands. Another study found that declining Osteocalcin levels due to aging may have had a direct effect on declining exercise capacity and may also correlate with muscle strength (3). In addition, research has shown that Osteocalcin may regulate proper brain development and cognitive function (2,4). Osteocalcin has also been implicated in male fertility through the regulation of the synthesis of testosterone in Leydig cells (4).
In saliva osteocalcin has also been frequently studied in dentistry as a biomarker of bone loss, and more specifically targeted in studies of periodontitis and effects of smoking (6, 7). Many of these studies have confirmed that osteocalcin in saliva is readily available and may be a reliable measure of bone remodeling and identify the progression of periodontal disease (8-10).
Show less...
Technical Summary
Analyte Summary
Analyte:
Osteocalcin
Aliases:
OCN, OC, Bone Gamma-Carboxyglutamic Acid-Containing Protein (BGLAP),
Serum-Saliva Correlation:
NA
Optimum Collection Volume:
150 μL
Assay Summary
Methodology:
ECL
Sensitivity:
9.77 pg/mL
Assay Range:
9.77–10,000 pg/mL
Assay Type:
Quantitative
Articles and Technical Documentation
How to Collect Saliva
OSTEOCALCIN SALIVA COLLECTION CONSIDERATIONS
Better results begin with better saliva collection. This collection protocol features general considerations to maximize salivary osteocalcin analysis. Use this analyte-specific collection protocol to plan your collection methodology and sampling schemes.
APPROVED SALIVARY OSTEOCALCIN COLLECTION METHODS
Test Samples at Salimetrics
@ Salimetrics
Salimetrics SalivaLab - Easy & Accurate
| | |
| --- | --- |
| Order Code (lab): | 5212 |
| Transport Requirements: | Ship on Dry Ice |
@ Your Own Lab
Salimetrics Assay Kits - Better Results
The validated method used by Salimetrics is proprietary and not available in assay kit form at this time.
Add

DNA Analysis

to My Study
Considerations for adding Salivary DNA to analyte Studies:
You can combine salivary analytes with easy, accurate, and affordable genomic testing using Salimetrics SalivaLab and the same sample that you are already collecting – no specialized saliva collection devices or additional samples are required.
Don't know what SNPs are right for you? The SalivaLab's DNA team specializes in genetic testing services, we recommend you Request a DNA Consult (gratis) to learn more about common considerations such as # of samples, participant ethnicity, and IRB Approval.
All DNA Services
DNA Extraction and Normalization
Single Nucleotide Polymorphism (SNP) Genotyping
VNTR & STR Analysis
References & Salivary Osteocalcin Research
Berger, Julian Meyer, et al. (2019) Mediation of the Acute Stress Response by the Skeleton. Cell Metabolism. US National Library of Medicine, S 1550- 4131(19)30441-3. PMID: 31523009
Mera, Paula, et al. (2016) Osteocalcin Signaling in Myofibers is Necessary and Sufficient for Optimum Adaptation to Exercise. Cell Metab, US national Library of Medicine, 23(6): 1078-1092.
Moser, Sarah C., and Bram C. J. Van Der Eerden. (2019) Osteocalcin- A Versatile Bone Derived Hormone. Frontiers in Endocrinology, 9: 794.
Obri, Arnaud, et al. ( 2018) Osteocalcin in the Brain: from Embryonic Development to Age-Related Decline in Cognition. Nature Reviews Endocrinology, 14, 174-182.
Karsenty, Gerard, and Franck Oury. (2014) Regulation of male fertility by the bone-derived hormone osteocalcin. Molecular and Cellular Endocrinology, US National Library of Medicine, 382 (1).
Bullon, Pedro, et al. ( 2005)Serum, Saliva, and Gingivial Crevicular Fluid Osteocalcin: Their Relation to Periodontal Status and Bone Mineral Density in Postmenopausal Women . Journal of Periodontology, 76(4) 513-519.
Gurlek, Onder, et al (2009) Effects of Smoking on Salivary C-Telopeptide Pyridinoline Cross- Links of Type I Collagen and Osteocalcin Levels. Archives of Oral Biology, 54(12) 1099-1104.
Pellegrini, Gretel G, et al (2008) Correlation Between Salivary and Serum Markers of Bone Turnover in Osteopenic Rats. Journal of Periodontology, 79(1) 158-165.
Kinney, J S et al (2007) Oral Fluid-Based Biomarkers of Alveolar Bone Loss in Periodontitis . Annals of the New York Academy of Sciences, 1098(1): 230-251.
Miller, Craig S, et al. (2010) Current developments in Salivary Diagnostics. Biomarkers in Medicine, 4(1).
Lee, Na Kyung, et al. (2007) Endocrine Regulation of Energy Metabolism by the Skeleton. Cell, US National Library of Medicine, 130(3): 456-469.
Karsenty, Gerard, and Eric N. Olson. (2016) Bone and muscle endocrine functions: Unexpected paradigms of inter-organ communication. Cell, US national Library of Medicine, 164(6): 1248-1256.
Sloat, Sarah. (2019) Scientists Discover Stress Comes From an Unlikely Source in the Body. Inverse.
Oury, Franch, et al. (2011) Endocrine Regulation of Male Fertility by the Skeleton. Cell, Science Direct, 144(5) 796-809.
Camerino, et al. (2018) Evaluation of Short and Long Term Cold Stress Challenge of Nerve Grow Factor, Brain-Derived Neurotrophic Factor, Osteocalcin and Oxytocin mRNA Expression in BAT, Brain, Bone and Reproductive Tissue of Male Mice Using Real-Time PCR and Linear Correlation Analysis. Frontiers in physiology, US National Library of Medicine, 8:1101.
Patterson-Buckendahl. (2011) Osteocalcin is a stress-responsive neuropeptide. Endocrine regulations, US National Library of Medicine, 45(2):99-110.