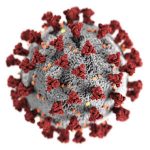 Severe Acute Respiratory Syndrome Coronavirus 2 (SARS-CoV-2) is the RNA virus strain that causes COVID-19, the disease first identified in 2019. Initially designated 2019-nCoV (2019 novel coronavirus), COVID-19 was declared a public health emergency on January 30, 2020, and later declared a worldwide pandemic on March 11, 2020. SARS-CoV-2 spreads through human-to-human transmission and enters human cells through its binding of the angiotensin converting enzyme 2 (ACE2) receptor. Each virion consists of 4 structural proteins: S (spike protein), E (envelope), M (membrane), and N (nucleocapsid). For this assay, the N protein was chosen to maximize the likelihood of antibody detection, since it is the most immunodominant protein in the coronavirus family.
Read More...
In addition to virus exposure, there is an urgent need to better understand the levels and duration of protective immunity for public health considerations. Research in saliva has identified that SARS-CoV-2 antibody testing could serve as a sensitive and specific serum alternative for large scale immune-surveillance studies (1). Importantly, IgG in saliva is derived from serum, so specificity and reactivity of salivary IgG directly reflects serum IgG reactivity, making oral fluid an attractive alternative sample to blood for serological studies (2, 3).
Current research has shown that antibody levels decrease in the serum of COVID-19 patients over time (4) and vary depending on disease severity. In fact, a higher number of asymptomatic participants become seronegative at 60 days indicating a true decline over a 2-month period rather than an artifact of assay performance. Due to this, the current assay has been benchmarked to a serum specific anti-N protein assay instead of PCR assay results.
Show less...
Technical Summary
Analyte Summary
Analyte:
SARS-CoV-2 Nucleocapsid Protein IgG
Aliases:
COVID-19 Antibody, 2019-nCoV Antibodies, coronavirus Antibodies
Serum-Saliva Correlation:
NA
Optimum Collection Volume:
200 μL*
*Add 300 µl to the total volume of all tests for liquid handling
Assay Summary
Methodology:
ELISA
Sensitivity:
92%
Specificity:
97.6%
Assay Type:
Qualitative
How to Collect Saliva
SARS-CoV-2 (N-Protein) IgG SALIVA COLLECTION CONSIDERATIONS
Better results begin with better saliva collection. This collection protocol features general considerations to maximize salivary analysis. Use this analyte-specific collection protocol to plan your collection methodology and sampling schemes.
APPROVED SALIVARY SARS-CoV-2 (N-PROTEIN) IgG COLLECTION METHODS
Test Samples at Salimetrics
@ Salimetrics
Salimetrics SalivaLab - Easy & Accurate
| | |
| --- | --- |
| Order Code (lab): | 5225.11 |
| Transport Requirements: | Ship on Dry Ice |
@ Your Own Lab
Salimetrics Assay Kits - Better Results
References & Salivary SARS-CoV-2 Research