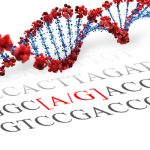 The mu-opioid receptor, encoded by the OPRM1 gene, is the primary receptor for the endogenous opioid peptide b-endorphin, but is also the site at which exogenous opioids including morphine and heroin bind (1,2). The most commonly studied SNP for this gene is
rs1799971
(A/G variation), on the first exon of the OPRM1 gene, and represents an amino acid switch from asparagine (Asn) to aspartic acid (Asp). Functionally, this SNP has been shown to bind beta-endorphin three times more tightly when the G allele is expressed compared to the A allele. The G allele, even when present heterozygously, has been linked to increased alcohol cravings and influences the response to exogenous opioids, likely by affecting receptor expression and signaling efficiency (3,4,5). Interestingly, this same SNP has also been shown in G allele carriers to correlate with increased sensitivity in social contexts, and greater reactivity to social rejection (6,7,8).
Read More...
In addition to rs1799971, several other SNPs within this gene have been shown to associate with dependence and depression related traits (9). For more research on the OPRM1 gene, visit SNPedia here.
When interpreting data from your current study or planning for the future, consider the polymorphisms that influence brain function. For a complete list of SNPs available for research, we recommend contacting one of our experts for guidance on the most relevant selections for your research.
Show less...

TECHNICAL SUMMARY
Gene Summary
Gene:
Opioid Receptor, mu 1
Gene Symbol:
OPRM1
Related Analyte(s):
Cortisol
Assay Methodology
Genomic DNA, purified using silica based membrane columns is analyzed by TaqMan® SNP Genotyping Assays run on the 7900HT real time PCR system
Yield: 2-5 ug genomic DNA


How to collect Mu-Opioid Receptor – OPRM1
APPROVED SALIVARY DNA COLLECTION METHODS