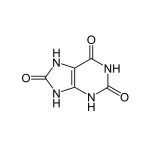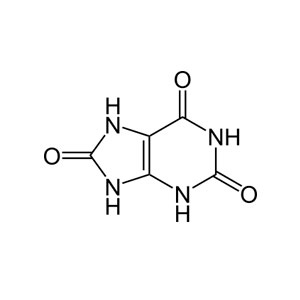 Uric acid is the most prevalent antioxidant in blood and minimizes the systemic physiological stress of free-radical oxygen species on the body preventing a state known as Oxidative Stress. The cumulative damage caused by Oxidative Stress has been linked to a wide range of health problems including cancer, cardiovascular disease and age related neurodegenerative diseases among others. Therefore, the antioxidant properties of uric acid are thought to provide a protective role against these conditions.
Read More...
When uric acid concentrations are elevated in a condition known as hyperuricemia, significant harmful health effects result. Blood uric acid levels above 7 mg/dl lead to the formation of monosodium urate (MSU) crystals. After sustained hyperuricemia, these MSU crystals deposit in tendons and joints to cause severe diseases including gout, kidney stones and several forms of kidney disease. Gout is the most prevalent inflammatory arthritis worldwide and frequent monitoring of uric acid levels is critical for disease management. In the case of kidney stones, approximately 5-10% of the 3.3 million Americans seeking medical care for kidney stones are due to elevated uric acid. High blood uric acid levels are also associated with a wide variety of diseases including hypertension, increased cardiovascular mortality, obesity and metabolic syndrome.
Several studies have reported that a linear relationship exists between serum and salivary uric acid levels and salivary uric acid may be a useful biomarker for oxidative stress and monitoring metabolic syndrome to help mitigate cardiometabolic risk.
Show less...
Technical Summary
Analyte Summary
Analyte:
Uric Acid
Aliases:
urate, acid urate, monosodium urate
Serum-Saliva Correlation:
0.84
Optimum Collection Volume:
25 μL*
*Add 300 µl to the total volume of all tests for liquid handling
Interfering Factors
High consumption of alcohol beverages (particularly beer), fructose and diets high in purine-rich foods can alter Uric Acid levels.

Several drugs may alter Uric Acid levels (Moriwaki 2014).
Assay Summary
Methodology:
ELISA
Sensitivity:
0.07 mg/dL
Assay Range:
0.07- 5 mg/dL
Assay Type:
Quantitative
Collect Saliva Samples
URIC ACID SALIVA COLLECTION CONSIDERATIONS
Better results begin with better saliva collection. This collection protocol features general considerations to maximize salivary Uric Acid analysis. Use this analyte specific collection protocol to plan your collection methodology and sampling schemes.
APPROVED SALIVARY URIC ACID COLLECTION METHODS
Test Saliva Samples
@ Salimetrics
Salimetrics SalivaLab - Easy & Accurate
| | |
| --- | --- |
| Order Code (lab): | 5421 |
| Transport Requirements: | Ship on Dry Ice |
@ Your Own Lab
Salimetrics Assay Kits - Better Results
Add

DNA Analysis

to My Study
Considerations for adding Salivary DNA to analyte Studies:
You can combine salivary analytes with easy, accurate, and affordable genomic testing using Salimetrics SalivaLab and the same sample that you are already collecting – no specialized saliva collection devices or additional samples are required.
Don't know what SNPs are right for you? The SalivaLab's DNA team specializes in genetic testing services, we recommend you Request a DNA Consult (gratis) to learn more about common considerations such as # of samples, participant ethnicity, and IRB Approval.
All DNA Services
DNA Extraction and Normalization
Single Nucleotide Polymorphism (SNP) Genotyping
VNTR & STR Analysis
References & Salivary Uric Acid Research
Galassi FM, Borghi C. (2015). A brief history of uric acid: From gout to cardiovascular risk factor. Eur J Intern Med, 26(5), 373.
Pohanka M. (2014). Alzheimer's disease and oxidative stress: a review. Curr Med Chem, 21(3), 356-64.
Ames BN, Cathcart R, Schwiers E, Hochstein P. (1981). Uric acid provides an antioxidant defense in humans against oxidant- and radical-caused aging and cancer: a hypothesis. Proc Natl Acad Sci U S A, 78(11):6858-62.
Glantzounis GK, Tsimoyiannis EC, Kappas AM, Galaris DA. (2005). Uric acid and oxidative stress. Curr Pharm Des, 11(32), 4145-51.
Lu N, Dubreuil M, Zhang Y, Neogi T, Rai SK, Ascherio A, et al. (2015). Gout and the risk of Alzheimer's disease: a population-based, BMI-matched cohort study. Ann Rheum Dis, Epub ahead of print.
Lippi G, Montagnana M, Franchini M, Favaloro EJ, Targher G. (2008). The paradoxical relationship between serum uric acid and cardiovascular disease. Clin Chim Acta, 392(1-2), 1-7.
Rees F, Hui M, Doherty M. (2014). Optimizing current treatment of gout. Nat Rev Rheumatol, 10(5), 271-83.
Soukup M, Biesiada I, Henderson A, Idowu B, Rodeback D, Ridpath L, et al. (2012). Salivary uric acid as a noninvasive biomarker of metabolic syndrome. Diabetol Metab Syndr, 4(1), 14.
Xia Y, Peng C, Zhou Z, Cheng P, Sun L, Peng Y, et al. (2012). [Clinical significance of saliva urea, creatinine, and uric acid levels in patients with chronic kidney disease]. Zhong Nan Da Xue Xue Bao Yi Xue Ban, 37(11), 1171-6.
Nunes LA, Brenzikofer R, Macedo DV. (2011). Reference intervals for saliva analytes collected by a standardized method in a physically active population. Clin Biochem, 44(17-18), 1440-4.

Goll RD, Mookerjee BK. (1978). Correlation of biochemical parameters in serum and saliva in chronic azotemic patients and patients on chronic hemodialysis. J Dial, 2(4), 399-44.