(July 17, 2018)
Salimetrics launches validated and optimized salivary oxytocin assay for researchers sending samples for testing to the Salimetrics SalivaLab.
Today, Salimetrics' strong bond with the salivary bioscience community grows even stronger with the launch of a high sensitivity salivary oxytocin assay, now available through the Salimetrics SalivaLab testing service. This new assay is consistent with Salimetrics' commitment to developing highly specific assays that benefit from standardized collection protocols designed to increase participant compliance.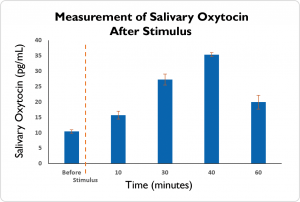 The new salivary oxytocin assay maintains the following industry-leading features:
Optimized and extensively validated for performance in saliva
Discreet, measurable, and reproducible changes in salivary oxytocin levels in response to triggering events
High sensitivity (8 pg/mL)
Minimal sample volume requirement (25 µL per test)
No sample pre-processing, concentration, or extraction, leading to increased precision
To develop a ground-breaking assay for a complex neurohypophysial peptide hormone, Salimetrics turned to a proprietary method which has unmatched signal to noise ratios. "Our assay maintains Salimetrics' commitment to assays which benefit from high specificity and precision, low sample volume requirements, and easy collection, while avoiding cumbersome extraction or concentration procedures. To address the current concerns when using saliva as a biological sample for oxytocin determination, we've subjected this assay to an extensive validation process. In addition, through beta-testing in collaboration with researchers in various fields, we have added assurance that our assay provides biologically meaningful data," says John Stebbins, Ph.D., Salimetrics' Research and Development Scientist.
Prior patent literature and recent proteomic research in plasma and serum has appreciated that oxytocin exists as a cyclic active molecule and also in a pool with disulfides linked to other proteins. By using monoclonal antibody depletion experiments, Salimetrics was able to show that the antibody employed in the assay recognizes cyclic oxytocin and may also detect forms when linked to other proteins.
"We're proud to make reliable testing of salivary oxytocin easy and readily accessible to investigators for the first-time. Because the literature suggests different oxytocin response timing to different stimulus, Salimetrics recommends running a small pilot study to determine peak sample collection timing. For saliva collection, we recommend using the passive drool method and freezing samples immediately just as you would for other salivary biomarkers," says Supriya Gaitonde, Ph.D., Salimetrics' Senior Application Scientist. "This assay marks a milestone in salivary bioscience, as it has been the most requested analyte from the research community."
Often called "the love hormone," oxytocin is a powerful neurotransmitter that regulates social interaction, pair bonding, milk release, uterine contractions and sexual reproduction. Research in numerous scientific fields have investigated oxytocin's effects in fields such as maternal-infant bonding, empathy, generosity, racism, and pair bonding. Oxytocin is part of a highly complex psychological and biological system that underpins many of the archetypal human emotions and guides social interactions.
Concurrent research provides a robust background that highlights salivary oxytocin as an important biomarker for researching emotional, cognitive, and other behavioral fields of interest. Investigators can visit the Salimetrics Website to learn more about salivary oxytocin, now available through the Salimetrics SalivaLab, or to submit a request for a quote. Steve Granger, Ph.D., Salimetrics' Chief Scientific Officer notes; "We will continue to serve the community with the best salivary bioscience tools possible. The availability of oxytocin testing now provides an additional opportunity to facilitate research that will continue to advance the cutting edge of better salivary bioscience."
About Salimetrics:
Salimetrics' assay kits and CLIA-certified testing services are used to measure salivary analytes related to stress, behavior and development, inflammation, sleep, reproduction, health and immune function. Founded in 1998 by Douglas A. Granger, Ph.D., Salimetrics, LLC supports CROs, pharmaceuticals, academic researchers and the immunodiagnostic industry around the world with innovative immunoassay products, non-invasive saliva collection methods, and laboratory testing services.
Read this article on PR Web