Dispatches from the Front Edge of Salivary Bioscience: A Commentary on "More Research is Needed"
Drop Date: September 2023
In This Drop: Dispatches from the Front Edge of Salivary Bioscience: A Commentary on "More Research is Needed"
By: Kristina Feghali and Douglas A. Granger

Commentary from Douglas Granger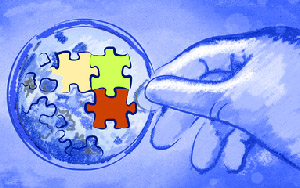 How many times has your attention been drawn to a headline about a new scientific discovery or a solution to a salient societal or health problem? It happens so frequently that I can't even recall the exact number. Yet, each time, I find myself eagerly tuning in to hear scientists expound on their ideas, methodologies, and findings. The research enterprise is so important, and it's the engine for advancing theory, building knowledge, developing plans and policies, and solving problems.
During my recent commute, I was caught off guard when a story I was listening to ended with the statement by the scientist being interviewed, which was repeated by the journalist, that "more research is needed." Since then, I've noticed that this phrase is frequently used, and headlines often overstate scientific conclusions.
On the headline-generating side of this story, perhaps this is a function of the era we live in. The headline is a tool to capture our attention. These days, academics are even coached by campus personnel in ways to showcase their findings with journalists who influence the content of these headlines in the popular press and social media.
More often than not, these interviews or podcasts end with the scientist or the interviewer mentioning multiple caveats that qualify any conclusions. In contrast to the headline, the concluding statements are more tentative, less definitive, and qualified by study limitations. They are often followed by the interviewer or scientist announcing, "More research is needed."
Scientifically, this seems appropriate. It's not really a "bait and switch" operation. The scientist is being cautious not to over-interpret the observations. Scientists must be cautious about over-interpreting the findings of any single study because the next study may reveal evidence to the contrary. This is the world of academia where more research will always be needed because each major advance reveals the next set of important questions to address.
Consider how refreshing it would be if study outcomes enabled definitive conclusions, clearly answered the questions they set out to study, and made specific recommendations that were generalizable.
When investigators can do so, it enables them to efficiently move on to the next step in the process of developing knowledge in the field. When they cannot, it's a bit like an academic treadmill or perhaps similar to the progress afforded in the "one-step forward, two-step back" scenario. When observations answer questions clearly, the publications that present these findings are high-impact. When the outcomes are clear, the observations tee up the next specific aims and research questions that build the foundation of the next grant proposals. When the outcomes are clear, fellows and post-docs move ahead in their career trajectories toward being independent investigators.
When studies do not do so, the discussion sections of the publications list a series of limitations of the method used (i.e.., problems with recruitment and retention of participants, caveats associated with logistic difficulties collecting data) and mention that future studies need to repeat the work and perhaps with a larger sample size. Have you noticed that if you attend the same scientific meeting year after year, you see that the topics researched and presented are repeated by the next generation of scientists?
Transformative Study Outcomes
Over the past 25 years, Salimetrics has published best practices and recommendations for collecting, handling, storing, and assaying saliva samples in the context of biobehavioral research. Structures were built to enable broad access to the tools developed in this work. We have also created systems to share this expertise with the scientific community and have enabled researchers to use these tools, including our top-tier SalivaLab that delivers excellent results every time.
In our scientific bones, we believe that by providing access to these tools, services, and knowledge, research that employs salivary bioscience measures will advance at a more efficient and effective pace. The effort, of course, is to push the field from discovery to method development, to exploration of applications, to translation. It is especially timely now to move the field from descriptive and method-focused work to translation.
We invite you and your team to join us on this quest. Regardless of whether you have saliva experience or not, and regardless of your stage in your scientific career, use Salimetrics and their experts to advance your research efforts so that you can address your projects' specific aims and answer your research questions decisively.
Let us share our experience and knowledge with you; it will strengthen the significance, innovation, and methods of the studies you propose. We believe it will raise the impact of your scholarship and will accelerate your work in ways you may not imagine. We believe it will increase your priority scores and increase the chance of external funding. We believe it will maximize scientific value, minimize your costs, save you time, and enable you to focus on your science without distractions.
Reflecting on the statement "More research is needed," wouldn't it be fantastic if that phrase meant "because we are now looking at the next important piece of the puzzle" rather than "because our conclusions weren't definitive, and our methods weren't sufficient to clearly answer the hypotheses we tested."
*Note: Salimetrics provides this information for research use only (RUO). Information is not provided to promote off-label use of medical devices. Please consult the full-text article.