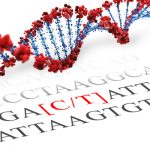 Many variants of the Fat mass and obesity (FTO) gene, clustered within intron 1, have been widely connected to human obesity (1). Scuteri et al 2007, reported that common genetic variants in the FTO gene are associated with substantial changes in BMI, hip circumference, and body weight (2). In addition to body weight regtulation, some variants of the FTO gene have also been associated with common diseases including human adiposity and metabolic disorders (3).
Read More...
In 2009, two large genome wide association studies about body mass index (BMI) were conducted that further confirmed variants in the FTO gene that are linked to obesity (4, 5). More recently, Claussnitzer et al 2015, showed that the single T-to-C variant in rs1421085 functionally led to a reduction in mitochondrial thermogenesis in adipocyte precursor cells, and an increase in lipid storage, resulting in a direct effect on obesity (6).
Another SNP in the FTO gene, rs1121980, showed a strong association with early onset obesity, and how its effects could be attenuated with physical activity (7, 8). Closer evaluation of the SNPs within the FTO gene can aid researchers in discovering how genetic factors influence an outcome of obesity. For more research and details on MR visit SNPedia here.
When interpreting data from your current study or planning for the future, consider the polymorphisms that influence the regulation of body weight. For a complete list of SNPs available for research, we recommend contacting one of our experts for guidance on the most relevant selections for your research.
Show less...

TECHNICAL SUMMARY
Assay Methodology
Genomic DNA, purified using silica based membrane columns is analyzed by TaqMan® SNP Genotyping Assays run on the 7900HT real time PCR system
Yield: 2-5 ug genomic DNA

How to collect Fat Mass and Obesity – FTO
APPROVED SALIVARY DNA COLLECTION METHODS