SBB – Salivary Bioscience as a building block for the RDoC matrix
In This Drop: Salivary Bioscience and the RDoC Matrix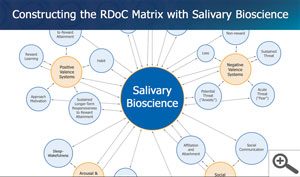 For more than two decades, Salivary Bioscience has been unlocking effective interdisciplinary opportunities to engage investigators studying mental health. Salivary cortisol has been at the leading edge of this effort and now joins many other salivary analytes and genetic markers as key components in RDoC.
The NIMH, Research Domain Criteria (RDoC) initiative is a research framework that enables new ways to study mental disorders.  RDoC is designed to integrate many levels of relevant biologic information in order to better understand the relationships between biology and behavior in mental illness. Researchers familiar with the RDoC matrix know that the goal is to provide a resource for "systematic focus on development and the environment – as well as with their mutual interactions – and their individual and interacting relationships to specific circuits and functions."
Salivary bioscience provides simple, non-invasive methods for designing RDoC-related profiles that build on the biological properties of saliva to power interdisciplinary research – and Salimetrics is here to help. "We are readily available to support salivary bio-behavioral research," says Steve Granger, Ph.D., Salimetrics CSO. "As a resource, we can assist in the process of effectively integrating salivary bioscience into RDoC constructs."
Today, Salivary Bioscience is powered by discoveries made through the National Institute of Dental and Craniofacial Research's (NICDR) efforts to characterize the salivary proteome and NIH's efforts to define genomic associations with various diseases. A wide variety of proteins and hormones measured in oral fluid are now regularly employed in behavioral studies. Likewise, associations of specific genomic variations (SNPs & VNTRs) have been made with behavioral tendencies, emotional resilience and responses, as well as vulnerability to disease states using DNA extracted from saliva samples.
Translating phenotypes through salivary genetic analysis can provide access to both biomarker and genetic information from the same sample, using inexpensive collection methods, and without added preservatives. "To be clear," says Dr. Granger, "a separate saliva DNA collection device is not required. We have done extensive validation on SalivaBio swabs and devices to explore salivary DNA. By optimizing the DNA isolation protocol, we obtain high purity DNA with A260/A280 ratios consistently at or above 1.8 and the A260/A230 ratios at or above 1.5. High purity DNA results in exceedingly low non-reportable findings (0.05%). Quality results provide researchers confidence in their data and assures that they will have a complete picture for their study."
For investigators, the expansive combination of salivary DNA analysis with salivary biomarkers and participant self-reports have facilitated multi-modal approaches to mapping fundamental bio-behavioral pathways. Building on innovative measures, Salimetrics is positioning innovative interdisciplinary, multi-modal, and multidimensional methods for the investigation of mental disorders in alignment with the RDoC initiative, framework, and matrix of constructs.
*Note: Salimetrics provides this information for research use only (RUO). Information is not provided to promote off-label use of medical devices. Please consult the full-text article.