SBB – Better Together – Salivary Testosterone & Cortisol
In This Drop: Measuring Salivary Testosterone and Cortisol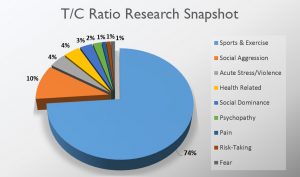 Renewed interest by the research community has focused on the salivary testosterone/cortisol (T/C) ratio and its supporting biological mechanisms. In this issue of the Salivary Bioscience Bulletin, we explore the scientific literature and provide a summary of our findings.
Research suggests that testosterone and cortisol work together as part of a biological system influencing very basic and primary reactions to threats by balancing the hypothalamus-pituitary-adrenal (HPA) axis and the hypothalamus-pituitary-gonadal (HPG) axis responses (9). In response to a stressor, the human body increases the production of cortisol and decreases production of testosterone (12). In sports and exercise studies, salivary bioscience researchers have already concluded that the balancing of the T/C ratio not only supports a healthier lifestyle, but it can also act as a hormonal biomarker that targets overtraining and susceptibility to certain diseases and disorders (5,10).
General findings in the context of exercise and sports performance show the value of the salivary T/C ratio when observing training intensity levels and for determining potential overtraining and recovery (3, 7). This is often seen when there is evidence of a low or decreased T/C ratio (i.e., cortisol rises and testosterone decreases (2). In athletes, the T/C ratio has also been associated with skeletal muscle atrophy, as it may be reflective of the anabolism/catabolism balance of skeletal muscle as well (11).
However, the salivary T/C story doesn't end with sports and performance. Additional research is beginning to encompass a much broader impact of the T/C ratio by expanding into the field of social biology. Findings related to social aggression and the T/C ratio have revealed a significant positive relationship between testosterone and aggression in subjects with high cortisol levels, but not in subjects with average to low cortisol levels (8). Now, research is beginning to elucidate the T/C ratio as a consistent hormonal marker for social aggression and criminal or aggressive tendencies (8,9).
While research continues to define the significant health implications of monitoring the T/C ratio by further understanding its biobehavioral influences, the team at Salimetrics stands ready to support you with convenient sample collection methods, salivary analysis and accurate results, so that you can unlock the potential of the T/C ratio in your research.
REFERENCES & RELATED RESEARCH
Guilhem, G. et al (2015). Salivary Hormones Response to Preparation and Pre-competitive Training of World-class Level Athletes. Front Physiol, PMID, 26635619.
Lippi, G. et al (2016). Analytical Evaluation of Free Testosterone and Cortisol Immunoassays in Saliva as a Reliable Alternative to Serum in Sports Medicine. J Clin Lab Anal, PMID, 26990800.
Kreher, J.B. et al (2012). Overtraining Syndrome. Sports Health, 4(2), 128–138.
Hug, M. et al (2003). Training modalities: over-reaching and over-training in athletes, including a study of the role of hormones. Best Pract Res Clin Endocrinol Metab, 17(2), 191-209.
Filaire, E. et al (2001). Preliminary results on mood state, salivary testosterone:cortisol ratio and team performance in a professional soccer team. Eur J Appl Physiol, 86(2), 179-84.
Ghiciuc, C.M. et al (2015). Imbalance in the diurnal salivary testosterone/cortisol ratio in men with severe obstructive sleep apnea: an observational study. Braz J Otorhinolaryngol, S1808-8694(15), 00241-4.
Glenn, A.L. et al (2012). Increased testosterone to cortisol ratio in psychopathy. J Abnorm Psychol, 120(2), 389-399.
Denson, T.F. et al (2013). Endogenous testosterone and cortisol jointly influence reactive aggression in women. Psychoneuroendocrinology, 38(3), 416-24.
Terburg, D. et al (2009). The testosterone-cortisol ratio: A hormonalmarker for proneness to social aggression. Int J Law Psychiatry, 32(4), 216-23.
Smith, G.D. et al (2005). Cortisol, testosterone, and coronary heart disease: prospective evidence from the Caerphilly study. Circulation, 112(3), 332-40.
Grandys, M. et al (2016). The importance of the training-induced decrease in basal cortisol concentration in the improvement in muscular performance in humans. Physiol Res, 65(1), 109-20.
Edwards, D.A. et al (2015). Baseline cortisol moderates testosterone reactivity to women's intercollegiate athletic competition. Physiol Behav, 142, 48-51.
*Note: Salimetrics provides this information for research use only (RUO). Information is not provided to promote off-label use of medical devices. Please consult the full-text article.