SBB – Best Practices for Saliva Swab Collection
In This Drop: Best Practices for Saliva Swab Collection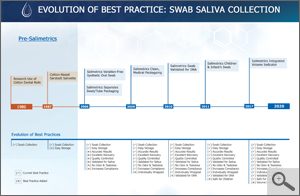 One of the first saliva swab collection devices designed to collect saliva for the measurement of salivary cortisol was the Sarstedt Salivette®. Over time and because of its simple design, the use of the term Salivette® in the literature became synonymous with swab-based saliva collection methods. The Salivette® features a tube, a swab, an internal container to hold the swab, and a slip fit cap.
Best Practices Beyond the Salivette®
Since then, new technology and next generation protocols for saliva swab collection have been introduced that significantly improve on the performance of the Salivette® (View Timeline). These improvements have optimized the collection devices and collection techniques, and as a result, have minimized variability in results, enhanced adaptability for multiple testing applications, maximized sample volumes and recoveries, and increased the ease of use and minimized participant burden (Granger et. al, 2007).
Researchers should look beyond the Salivette® and be sure the saliva collection method they choose includes the following features:
Validated for accurate results
Suitable for possible DNA collection
Ease of use for participants of different ages
Clean, safe, and non-toxic
Collects sufficient sample volume for analysis
Minimizes risk of choking
For better results and the best practices in saliva collection, visit the Salimetrics Recommended Saliva Collection Devices and Methods page.
REFERENCES & RELATED RESEARCH
Shirtcliff, E.A., et al (2001). Use of salivary biomarkers in biobehavioral research: cotton-based sample collection methods can interfere with salivary immunoassay results. Psychoneuroendocrinology, 26(2), 165-73.
Harmon, A. G., et al (2007). Measuring salivary cortisol in studies of child development: Watch out—what goes in may not come out of saliva collection devices. Psychobiology, 49(5), 495-500.
Granger, D.A., et al (2007). Integration of salivary biomarkers into developmental and behaviorally-oriented research: problems and solutions for collecting specimens. Physiology and Behavior, 92(4), 583-90.
Beltzer, E., et al (2010). Salivary flow and salivary alpha-amylase: Collection technique, duration, and oral fluid type. Physiology and Behavior, 101(2), 289-96.
Nemoda, Z., et al (2011). Assessing genetic polymorphisms using DNA extracted from cells present in saliva samples. BMC Medical Research Methodology, 11, 170.
Wilde, C., et al (2013). Sample collection, including participant preparation and sample handling. The Immunoassay Handbook: Theory and applications of ligand binding, ELISA and related techniques, 4th Edition, 427-40.
*Note: Salimetrics provides this information for research use only (RUO). Information is not provided to promote off-label use of medical devices. Please consult the full-text article.