SBB – A Milestone in Salivary Cortisol Research
In This Drop: A Milestone in Salivary Cortisol Research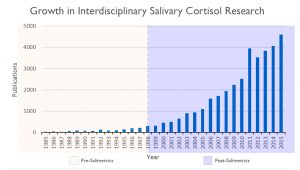 Last year marked a milestone in Salivary Bioscience history. Salivary Cortisol has now been featured in over 25,000 scientific research publications. For this issue of the Salivary Bioscience Bulletin, we wanted to take a moment to thank the scientific community for allowing Salimetrics to be a part of this journey.
Since its release in 1998, the Salimetrics Salivary Cortisol Assay Kit has evolved from being a novel alternative to radioimmunoassay, to becoming a fundamental building block of Salivary Bioscience Research. During this evolution, the number of scientific publications involving salivary cortisol has increased over 2,000%. Salivary Cortisol is now widespread across many fields of research including:
Stress
Reproductive Health
Mental Health
Wellness & Aging
Smoking & Environment
Biological sensitivity/Susceptibility to context
Sports & Performance
Inflammation
Obesity & Metabolic Problems
Social Behavior
Child Development
Behavioral Neuroscience
DNA and Gene Expression
Sleep & Circadian Rhythm
Animal Welfare
Nutrition & Health
Military, Law Enforcement, & Medical Training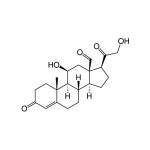 Salimetrics is honored to support salivary cortisol researchers around the world by consistently delivering better results.
*Note: Salimetrics provides this information for research use only (RUO). Information is not provided to promote off-label use of medical devices. Please consult the full-text article.