New Salimetrics Salivary Cytokine Panel Advances Research with One, Small Saliva Sample.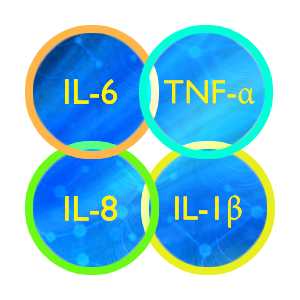 New Salimetrics Salivary Cytokine Panel Advances Research with One, Small Saliva Sample.
((November 10, 2016)
Salimetrics, the salivary bioscience company, today announced their latest offering in cutting edge salivary research with Salimetrics' Salivary Cytokine Panel. The new cytokine panel measures IL-1 beta, IL-6, IL-8 & TNF-Alpha concentrations simultaneously using a single, 100 µl saliva sample and features convenient panel pricing.
The Salivary Cytokine Panel from Salimetrics is a cost-effective solution when compared to other analysis methods for just 2-3 analytes. "Because cytokines act in conjunction with each other to influence downstream biomarkers, researchers frequently prefer to measure cytokines and related biomarkers together to get a more comprehensive picture of inflammation," says Steve Granger Ph.D., Salimetrics CSO.
A powerful tool for researchers, Salimetrics SalivaLab truly enables the adoption of salivary bioscience in research for investigators to make new contributions to biomedical science using easy and convenient biological methods. "We've integrated our most popular cytokines with a Salimetrics panel to assist researchers studying inflammation and immune function," says Dr. Granger. Requiring a small saliva sample for the salivary cytokine panel, Salimetrics SalivaLab brings a new opportunity for investigators. This can be especially beneficial for infant, children, or animal studies where researchers prefer to collect the smallest amount of saliva necessary to perform the assay. "The saliva cytokine panel is the result of our effort to bring researchers better options that provide robust access to salivary testing and will further expand the growing range of salivary bioscience applications," says Dr. Granger.
IL-1β, IL-8, and TNF-α are three important examples of a class of signaling molecules known as pro-inflammatory cytokines, which play an important role in initiating the body's acute phase inflammatory response to infections, injuries, or possibly stress. IL-1β and to a lesser extent TNF-α, have been strongly associated with oral inflammatory conditions including gingivitis and periodontal disease. These conditions play a larger role in more severe systemic diseases such as cardiovascular disease and diabetes. IL-6 functions as a pro-inflammatory mediator, and one of its key functions is to initiate inflammatory acute phase responses to infections. IL-6 also induces the production of C-reactive protein (CRP) in the liver, which when elevated chronically can lead to obesity. Importantly, several reports indicate that all four cytokines may contribute to the pathogenesis of certain oral cancers and have been implicated as markers for early oral cancer detection. Therefore, in addition to their utility in assessing oral inflammation, these markers may also be of interest in other fields, including cancer, asthma, and stress research. Studies have demonstrated that salivary cytokine levels are altered in certain psychological conditions or vary in response to acute psychological stress.
Researchers interested in the salivary cytokines panel can connect with the SalivaLab on the Salimetrics Website and ask how the salivary cytokines panel can benefit your bioscience research. "We will continue to combine efficiency, flexibility, and simplicity with Salivary Bioscience solutions for complex biological analysis without sacrificing accuracy," says Hans Schroeder, Salimetrics CEO.
About Salimetrics:
Salimetrics' assay kits and CLIA-certified testing services are used to measure salivary analytes related to stress, behavior and development, inflammation, sleep, reproduction, health and immune function. Founded in 1998 by Douglas A. Granger, Ph.D., Salimetrics, LLC supports CROs, pharmaceuticals, academic researchers and the immunodiagnostic industry around the world with innovative immunoassay products, non-invasive saliva collection methods, and laboratory testing services.
Read this article on PR Web
*Note: Salimetrics provides this information for research use only (RUO). Information is not provided to promote off-label use of medical devices. Please consult the full-text article.