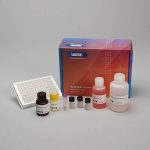 Salimetrics Assay #1-1502
The Salimetrics Salivary Progesterone (P4) Enzyme Immunoassay Kit was specifically designed to standardize the detection of progesterone in saliva samples for research and biomedical laboratories. Using a small sample volume, this assay kit has an extended range that spans the expected progesterone levels found in human saliva. The average inter- and intra-assay precision coefficients of variation are low with no deleterious matrix effects often found in saliva which are characterized through dilution- and spike-recovery validation procedures. This progesterone assay kit has also been formatted to minimize cross reactivity for related steroids.

Technical Summary
Assay Protocol

Specifications
Catalog#:
1-1502
Regulatory Status:
RUO
Format:
96-well plate
Assay Time:
~ 2 hrs
Sample Volume/Test:
50 µL
Sensitivity:
5 pg/mL
Assay Range:
10 pg/mL - 2430 pg/mL
Storage Requirements:
2-8°C
Tests Per Kit
Singlet:
76
Duplicate:
38
---
Salivary Progesterone Assay Kit Overview
Intended Use
The Salimetrics Progesterone Enzyme Immunoassay Kit is a competitive immunoassay specifically designed and validated for the quantitative measurement of salivary Progesterone. It is not intended for diagnostic use. It is intended only for research use in humans and some animals. Salimetrics has not validated this kit for serum or plasma samples.
Introduction
Progesterone (4-pregenene-3,20-dione) is a steroid hormone of primary importance in ovulation, fertility, pregnancy, and menopause. Synthesis of Progesterone takes place in the placenta, adrenal glands, and gonads. In normal, non-pregnant women during the midluteal phase of the menstrual cycle, Progesterone exhibits a prominent circadian rhythm with additional ultradian components. Peak production occurs in the evening around 6 PM. In pregnant women, Progesterone also exhibits a similar rhythm during the second and third trimester, with a nadir in the morning and a peak in the late evening. In males, Progesterone is thought to play some role in testicular physiology. In addition to its role as a sex hormone, Progesterone also serves as a precursor compound for many of the other steroid hormones. Progesterone is also synthesized in the brain and nervous system, where it functions as a neurosteroid that can influence survival and growth of cells, and it is involved in brain development and behavior. In blood, only 1 to 10% of Progesterone is in its unbound or biologically active form. The remaining Progesterone is bound to serum proteins. Unbound Progesterone enters the saliva via intracellular mechanisms, and the majority of Progesterone in saliva is not protein-bound. Salivary Progesterone levels are unaffected by salivary flow rate or salivary enzymes. Correlations obtained between plasma and salivary levels measured in the same subjects have generally been quite high.
Salivary Progesterone Assay Principle
This is a competitive immunoassay kit. Progesterone in standards and samples compete with Progesterone conjugated to horseradish peroxidase for the antibody binding sites on a microtitre plate. After incubation, unbound components are washed away. Bound Progesterone Enzyme Conjugate is measured by the reaction of the horseradish peroxidase enzyme to the substrate tetramethylbenzidine (TMB). This reaction produces a blue color. A yellow color is formed after stopping the reaction with an acidic solution. The optical density is read on a standard plate reader at 450 nm. The amount of Progesterone Enzyme Conjugate detected is inversely proportional to the amount of Progesterone present in the sample.
References & Salivary Progesterone Research
Tuckey, R.C. (2005). Progesterone synthesis by the human placenta.  Placenta, 26(4), 273-81.
Strott, C.A., Yoshimi, T., Lipsett, M.B. (1969).  Plasma progesterone and 17-hydroxyprogesterone in normal men and children with congential adrenal hyperplasia. J Clin Invest, 48(5), 930-39.
Soules, M.R., Clifton, D.K., Steiner R.A., et al. (1988). The corpus luteum: Determinants of progesterone secretion in the normal menstrual cycle. Obstet Gynecol, 71(5), 659-66.
Eppig, J.J. (2001). Oocyte control of ovarian follicular development and function in mammals.  Reproduction, 122(6), 829-38.
Veldhuis, J.D., Christiansen, E.C., Evans, W.S., et al. (1988).  Physiological profiles of episodic progesterone release during the midluteal phase of the human menstrual cycle: Analysis of circadian and ultradian rhythms, discrete pulse properties, and correlations with simultaneous luteinizing hormone release.  J Clin Endocrinol Metab, 66(2), 414-21.
Junkermann, H., Mangold, H., Vecsei, P., Runnebaum, B. (1982). Circadian rhythm of serum progesterone levels in human pregnancy and its relation to the rhythm of cortisol.  Acta Endocrinol, 101(1), 98-104.
Shah, C., Modi, D., Sachdeva, G., et al. (2005).  Coexistence of intracellular and membrane-bound progesterone receptors in human testis.  J Clin Endocrinol Metab, 90(1), 474-83.
Djebaili, M., Guo, Q., Pettus, E.H., et al. (2005).  The neurosteroids progesterone and allopregnanolone reduce cell death, gliosis, and functional deficits after traumatic brain injury in rats. J Neurotrauma, 22(1), 106-18.
Stein, D.G. (2008). Progesterone exerts neuroprotective effects after brain injury.  Brain Res Rev, 57(2), 386-97.
Wagner, C.K. (2006). The many faces of progesterone: A role in adult and developing male brain.  Front Neuroendocrinol, 27(3), 340-59.
Brown, S.L., Fredrickson, B.L., Wirth, M.M., et al. (2009).  Social closeness increases salivary progesterone in humans.  Horm Behav, 56(1), 108-111.)
Vining, R.F., McGinley, R.A. (1987). The measurement of hormones in saliva: Possibilities and pitfalls.  J Steroid Biochem, 27(1-3), 81-94.
Ellison, P.T. (1993). Measurements of salivary progesterone. In: Saliva as a diagnostic fluid, Malamud, D., Tabak, L., eds. Ann N Y Acad Sci, 694, 161-176.