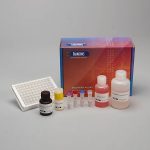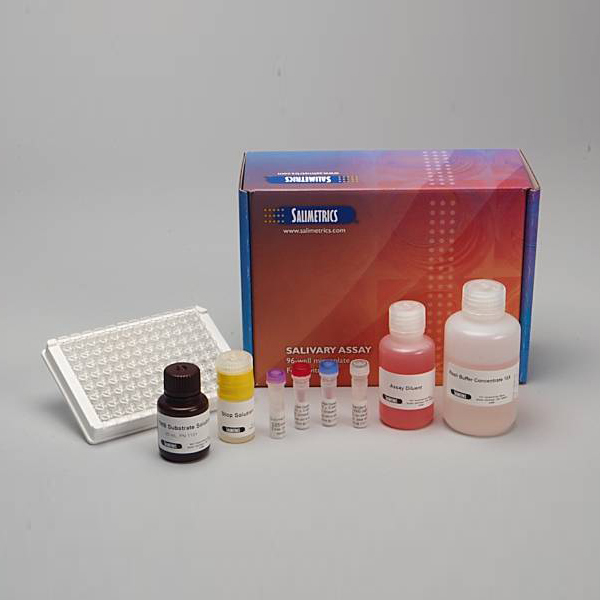 Salimetrics Assay #1-2312 (in vitro diagnostic use)
The Salimetrics Salivary Testosterone Enzyme Immunoassay Kit was specifically designed to standardize the detection of testosterone in saliva samples for research and biomedical laboratories. Using a small sample volume, this assay kit has an extended range that spans the expected testosterone levels found in human saliva. The average inter- and intra-assay precision coefficients of variation are low with no deleterious matrix effects often found in saliva which are characterized through dilution- and spike-recovery validation procedures. This testosterone assay kit has also been formatted to minimize cross reactivity for related steroids.
Read More...
Testosterone exhibits a diurnal rhythm, with highest levels in the morning and a nadir around midnight. In men, testosterone plays an important role in the development of male reproductive tissues including the testes and prostate, as well as promoting secondary sexual characteristics such as increased muscle, bone mass, and hair growth. In blood, only 1-10% of testosterone is in its unbound or biologically active form. The remaining testosterone is bound to serum proteins whereas the majority of testosterone in saliva is not protein-bound. Salivary testosterone levels are unaffected by salivary flow rate. The serum-saliva correlation for testosterone is very high for males, but only modest for females.​
Show less...

Technical Summary
Assay Protocol

Specifications
Catalog#:
1-2312
Regulatory Status:
CE Mark
Format:
96-well plate
Assay Time:
~2 hrs
Sample Volume/Test:
25 µL
Sensitivity:
1 pg/mL
Assay Range:
6.1 pg/mL - 600 pg/mL
Storage Requirements:
2-8°C
Tests Per Kit
Singlet:
76
Duplicate:
38
---
REFERENCES & SALIVARY ​TESTOSTERONE RESEARCH
Labrie, F., Luu-The, V., Bélanger, A., et al. (2005).  Is dehydroepiandrosterone a hormone? J Endocrinol, 187(2), 169-96.
Nakamura, Y., Hornsby, P.J., Casson, P., et al. (2008).  Type 5 17β-hydroxysteroid dehydrogenase (AKR1C3) contributes to testosterone production in the adrenal reticularis. J Clin Endocrinol Metab, 94(6), 2192-98.
Burger, H.G. (2002). Androgen production in women. Fertil Steril, 77(Suppl 4), S3-5.
Labrie, F., Bélanger, A., Cusan, L., Candas, B. (1997).  Physiological changes in dehydroepiandrosterone are not reflected by serum levels of active androgens and estrogens but of their metabolites: Intracrinology.  J Clin Endocrinol Metab, 82(8), 2403-9.
Ankarberg, C., Norjavaara, E. (1999).  Diurnal rhythm of testosterone secretion before and throughout puberty in healthy girls: Correlation with 17β-estradiol and dehydroepiandrosterone sulfate.  J Clin Endocrinol Metab, 84(3), 975-84.
Diver, M.J., Imtiaz, K.E., Ahmad, A.M., et al. (2003).  Diurnal rhythms of serum total, free and bioavailable testosterone and of SHBG in middle-aged men compared with those in young men. Clin Endocrinol (Oxf), 58(6), 710-17.
Rogol, A.D., Clark, P.A., Roemmich, J.N. (2000).  Growth and pubertal development in children and adolescents: Effects of diet and physical activity.  Am J Clin Nutr, 72(2 Suppl.), 521S-28.
Snyder, P.J., Peachey, H., Berlin, J.A., et al. (2000). Effects of testosterone replacement in hypogonadal men.  J Clin Endocinol Metab, 85(8), 2670-77.
Tibblin, G., Adlerberth, A., Lindstedt, G., Björntorp, P. (1996).  The pituitary-gonadal axis and health in elderly men: A study of men born in 1913.  Diabetes, 45(11), 1605-9.
Davis, S.R., Tran, J. (2001). Testosterone influences libido and well being in women. Trends Endocrinol Metab, 12(1), 33-7.
Wang, C., Alexander, G., Berman, N., et al. (1996). Testosterone replacement therapy improves mood in hypogonadal men: A clinical research center study. J Clin Endocrinol Metab, 81(10), 3578-83.
Malkin, C.J., Pugh, P.J., West, J.N., et al. (2006). Testosterone therapy in men with moderate severity heart failure: A double-blind randomized placebo controlled trial.  Eur Heart J, 27(1), 57-64.
Bhasin, S., Bremner, W.J. (1997). Clinical review 85: Emerging issues in androgen replacement therapy.  J Clin Endocrinol Metab, 82(1), 3-8.
Gibson, M., Lackritz, R., Schiff, I., Tulchinsky, D. (1980). Abnormal adrenal responses to adrenocorticotropic hormone in hyperandrogenic women.  Fertil Steril, 33(1), 43-8.
Rodin, A., Thakkar, H., Taylor, N., Clayton, R. (1994). Hyperandrogenism in polycystic ovary syndrome: Evidence of dysregulation of 11β-hydroxysteroid dehydrogenase.  N Eng J Med, 330(7), 460-65.
Vining, R.F., MicGinley, R.A. (1987). The measurement of hormones in saliva: Possibilities and pitfalls.  J Steroid Biochem, 27(1-3), 81-94.
Wang, C., Plymate, S., Nieschlag, E., Paulsen, C.A. (1981). Salivary testosterone in men: Further evidence of a direct correlation with free serum testosterone.  J Clin Endocrinol Metab, 53(5), 1021-24.
Rollin, G. (2010). The trials of testosterone testing.  Clin Lab News, 36(8), 1-5.