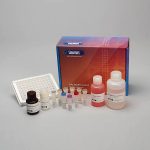 Salimetrics Assay #1-3102 (in vitro diagnostic use)
Using a small sample volume, this assay kit has an extended range that spans the expected cortisol levels found in human saliva. The average inter- and intra-assay precision coefficients of variation are low with no deleterious matrix effects often found in saliva which are characterized through dilution- and spike-recovery validation procedures. The Salimetrics cortisol assay kit has also been formatted to minimize cross reactivity for related steroids. Salimetrics salivary assay kits are expertly designed, developed and validated to ensure accuracy in saliva and proven to deliver precision results for biomarkers in saliva.
Read More...
Salivary cortisol levels are unaffected by salivary flow rate and are relatively resistant to degradation from enzymes or freeze-thaw cycles. Studies consistently report high correlations between serum and salivary cortisol, indicating that salivary cortisol levels reliably estimate serum cortisol levels. Cortisol production has a circadian rhythm, with levels peaking in the early morning and dropping to lowest values at night. However, levels rise independently of circadian rhythm in response to stress.​
Show less...

Technical Summary
Assay Protocol

Specifications
Catalog#:
1-3102
Regulatory Status:
510(k), CE Mark
Format:
96-well plate
Assay Time:
~ 2 hrs
Sample Volume/Test:
25 µL
Sensitivity:
<0.007 ug/dL
Assay Range:
0.012-3.000 ug/dL
Storage Requirements:
2-8°C
Tests Per Kit
Singlet:
76
Duplicate:
38
---
References & Salivary Cortisol Research
Migeon, C.J., & Lanes, R.L. (1990). Adrenal cortex: hypo- and hyperfunction. In F. Lifshitz (ed.), Pediatric endocrinology, a clinical guide (2nd ed.), (pp. 333-52). New York: Marcel Dekker.
Drucker, S., New, M.I. (1987).  Disorders of adrenal steroidogenesis. Pediatr Clin North Am, 34(4), 1055-66.
Fischbach, F.T. (1992). The manual of laboratory and diagnostic tests, (4th ed.). Philadelphia: J. B. Lippincott.
Dorn, L.D., Lucke, J.F., Loucks, T.L., Berga, S.L. (2007). Salivary cortisol reflects serum cortisol: analysis of circadian profiles. Ann Clin Biochem, 44(pt 3), 281-84.
Chernow, B., Alexander, H.R., Smallridge, R.C., et al. (1987). Hormonal responses to graded surgical stress. Arch Intern Med, 147(7), 1273-78.
Kreiger, D.T. (1975). Rhythms of ACTH and corticosteroid secretion in health and disease and their experimental modification. J Steroid Biochem, 6(5), 758-91.
Rothfield, B. (1974). Plasma cortisol. In: B. Rothfield (ed.), Nuclear medicine–in vitro (pp. 120-5). Philadelphia: Lippincott.
Robin, P., Predine, J., Milgrom, E. (1977). Assay of unbound cortisol in plasma. J Clin Endocrinol Metab, 46(2), 277-83.
Vining, R.F., McGinley, R.A., Symons, R.G. (1983). Hormones in saliva: mode of entry and consequent implications for clinical interpretation. Clin Chem, 29(10), 1752-56.
Vining, R.F., McGinley, R.A. (1987). The measurement of hormones in saliva: Possibilities and pitfalls. J Steroid Biochem, 27(1-3), 81-94.
Francis, S.J., Walker, R.F., Riad-Fahmy, D., et al. (1987). Assessment of adrenocortical activity in term newborn infants using salivary cortisol determinations. J of Pediatrics, 111, 129-33.
Hiramatsu, R. (1981). Direct assay of cortisol in human saliva by solid phase radioimmunoassay and its clinical applications. Clinica Chimica Acta, 117, 239-249.
Vining, R.F., McGinley, R.A., Maksvytis, J.J., Ho, K.Y. (1983). Salivary cortisol: A better measure of adrenal cortical function than serum cortisol. Ann Clin Biochem, 20(pt 6), 329-35.