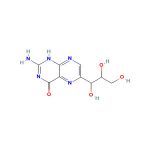 ​​Neopterin (D erythro neopterin) belongs to a group of compounds known as pteridines, which are derived from the guanosine triphosphate (GTP), a purine nucleotide.  Neopterin is produced by macrophages, and it is a valuable marker of inflammation and of the activation of the cell-mediated (Th1-type) immune system.  Neopterin levels are also used as a measure of oxidative stress.  Elevated neopterin levels have been associated with infection, cardiovascular disease, autoimmune disease, malignant tumors, psychiatric disorders, sleep-disordered breathing, autistic children, and cognitive decline in Alzheimer's disease.  (1,2)  Neopterin is measurable in healthy human saliva, and increased salivary levels have been found in patients with periodontal disease, HIV-1 virus infections, and Sjögren's Syndrome. (3,4,5) ​
Technical Summary
Analyte Summary
Analyte:
​​Neopterin
Aliases:
D erythro neopterin
Serum-Saliva Correlation:
NA
Optimum Collection Volume:
125 μL*
*Add 300 µl to the total volume of all tests for liquid handling
Assay Summary
Methodology:
ELISA
Sensitivity:
0.51 ng/mL
Assay Range:
-------------
Assay Type:
Quantitative
Collect Saliva Samples
NEOPTERIN SALIVA COLLECTION CONSIDERATIONS
Better results begin with better saliva collection. This collection protocol features general considerations to maximize salivary ​​Neopterin analysis. Use this analyte specific collection protocol to plan your collection methodology and sampling schemes.
APPROVED SALIVARY NEOPTERIN COLLECTION METHODS
Test Saliva Samples
@ Salimetrics
Salimetrics SalivaLab - Easy & Accurate
| | |
| --- | --- |
| Order Code (lab): | 5190 |
| Transport Requirements: | Ship on Dry Ice |
@ Your Own Lab
Salimetrics Assay Kits - Better Results
The validated method used by Salimetrics is proprietary and not available in assay kit form at this time.
Add

DNA Analysis

to My Study
Considerations for adding Salivary DNA to analyte Studies:
You can combine salivary analytes with easy, accurate, and affordable genomic testing using Salimetrics SalivaLab and the same sample that you are already collecting – no specialized saliva collection devices or additional samples are required.
Don't know what SNPs are right for you? The SalivaLab's DNA team specializes in genetic testing services, we recommend you Request a DNA Consult (gratis) to learn more about common considerations such as # of samples, participant ethnicity, and IRB Approval.
All DNA Services
DNA Extraction and Normalization
Single Nucleotide Polymorphism (SNP) Genotyping
VNTR & STR Analysis
References & Salivary ​​Neopterin Research
Murr, C., Widner, B., Wirleitner, B., Fuchs, D. (2002).  Neopterin as a marker for immune system activation.  Curr Drug Metab, 3(2), 175-87.
Chauhan, A., Chauhan, V. (2006).  Oxidative stress in autism.  Pathophysiology, 13(3), 171-81.
Katoh, S., Sueoka, T., Matsuura, S., Sugimoto, T. (1989). Biopterin and neopterin in human saliva.  Life Sci, 45(26), 2561-68.
Reibnegger, G., Fuchs, D., Zangerle, R., Wachter, H. (1990). Increased neopterin concentration in saliva of patients with HIV-1 infection.  Clin Chem, 36(7), 1379-80.
Pradeep, A.R., Kumar, M.S., Ramachandraprasad, M.V., Shikha, C. (2007).  Gingival crevicular fluid levels of neopterin in healthy subjects and in patients with different periodontal diseases.  J Periodontol, 78(10), 1962-67.