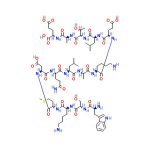 ​​Chromogranin A is an acidic secretory protein belonging to the granin family, found in many types of neuroendocrine tissues.  It is stored in secretory vesicles with other types of neurotransmitters and peptide hormones.  Granins play an important role in the sorting and aggregation of secretory products in the trans-golgi network, and in the subsequent formation of secretory granules. (1,2,3,4,5)  CgA is co-secreted from sympathetic nerves along with the catecholamines, and it has been shown to be useful as a biomarker of sympathetic nervous activity. CgA production has been found in human submandibular saliva glands, and CgA can be measured in saliva. The correlation between saliva and serum CgA is not well understood. (5,6,7) A circadian rhythm for CgA in normal subjects has been reported, with peak values during the night around 11:00 and a nadir in the morning around 8:00. (8)​
Technical Summary
Analyte Summary
Analyte:
​​Chromogranin A
Aliases:
CgA, Parathyroid secretory protein 1
Serum-Saliva Correlation:
NA
Optimum Collection Volume:
75 μL*
*Add 300 µl to the total volume of all tests for liquid handling
Assay Summary
Methodology:
ELISA
Sensitivity:
7 ng/mL
Assay Range:
------------
Assay Type:
Quantitative
Collect Saliva Samples
CHROMOGRANIN A SALIVA COLLECTION CONSIDERATIONS
Better results begin with better saliva collection. This collection protocol features general considerations to maximize salivary Chromogranin A analysis. Use this analyte-specific collection protocol to plan your collection methodology and sampling schemes.
APPROVED SALIVARY Chromogranin A COLLECTION METHODS
Test Saliva Samples
@ Salimetrics
Salimetrics SalivaLab - Easy & Accurate
| | |
| --- | --- |
| Order Code (lab): | 5191 |
| Transport Requirements: | Ship on Dry Ice |
@ Your Own Lab
Salimetrics Assay Kits - Better Results
The validated method used by Salimetrics is proprietary and not available in assay kit form at this time.
Add

DNA Analysis

to My Study
Considerations for adding Salivary DNA to analyte Studies:
You can combine salivary analytes with easy, accurate, and affordable genomic testing using Salimetrics SalivaLab and the same sample that you are already collecting – no specialized saliva collection devices or additional samples are required.
Don't know what SNPs are right for you? The SalivaLab's DNA team specializes in genetic testing services, we recommend you Request a DNA Consult (gratis) to learn more about common considerations such as # of samples, participant ethnicity, and IRB Approval.
All DNA Services
DNA Extraction and Normalization
Single Nucleotide Polymorphism (SNP) Genotyping
VNTR & STR Analysis
References & Salivary Chromogranin A Research
Feldman, S.A., Eiden, L.E. (2003). The chromogranins: Their roles in secretion from neuroendocrine cells and as markers for neuroendocrine neoplasia.  Endocr Pathol, 14(1), 3-23.
O,Connor, D.T., Frigon, R.P., Sokoloff, R.L. (1984).  Human chromogranin A. Purification and characterization from catecholamine storage vesicles of human pheochromocytoma.  Hypertension, 6, 2-12.
(Ozawa, H., Takata, K. (1995). The granin family — Its role in sorting and secretory granule formation. Cell Struct Funct, 20, 415-20.)
Montero-Hadjadje, M., Vaingankar, S., Elias, S., et al. (2008).  Chromogranins A and B and secretogranin II: Evolutionary and functional aspects.  Acta Physiol (Oxf), 192(2), 309-24.
Helle, K.B. (2010).  Chromogranins A and B and secretogranin II as prohormones for regulatory peptides from the diffuse neuroendocrine system.  Results Probl Cell Differ, 50, 21-44.
Koh, D.S.-Q., Koh, G. C.-H. (2007).  The use of salivary biomarkers in occupational and environmental medicine.  Occup Environ Med, 64, 202-10.
Kanno, T. (2004). Compound exocytosis of secretory granules containing salivary chromogranin A in granular duct cells in rat submandibular gland: The last study in collaboration with the late professor Noboru Yanaihara at Yanaihara Institute.  Reg Peptides, 123, 3-7.
Giampaolo, B. Angelica, M., Antonio, S. (2002).  Chromogranin  A in normal subjects, essential hypertensives and adrenalectomized patients.  Clin Endocrinol (Oxf), 57, 41-50.